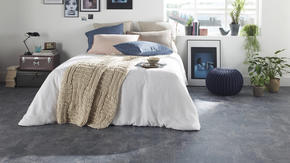 KEY FEATURES

Long Plank Design in rustic style
Extra resistant to scuffs, scratches and stains
Easy to install and maintain
15-year warranty
The wardrobe must-have, the denim, also suits the floors of the home. The colours range from the jean to the grey and the mustard. Two textiles decors -also matching together, create a cozy and modern atmosphere.
With our Extreme Protection surface treatment your floor is extra resistant and easy to keep clean and beautiful.
TECHNICAL AND ENVIRONMENTAL SPECIFICATIONS