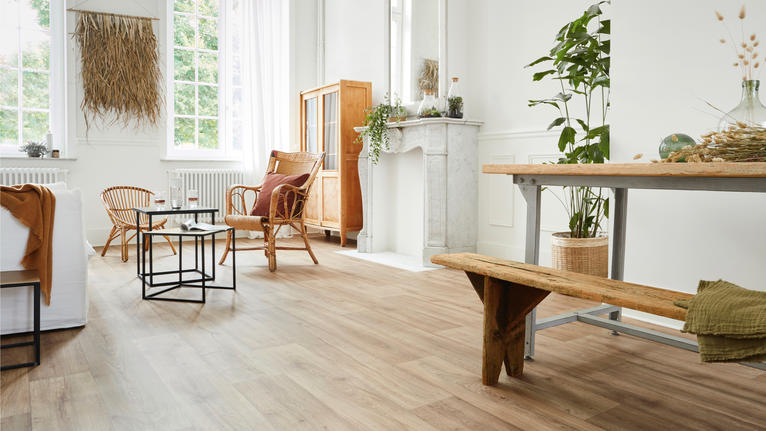 If you're looking for flooring solutions for private homes, ICONIK vinyl rolls are perfectly adapted to private customers' needs: realistic designs, improved well-being and ease of maintenance, all at a fraction of the cost. Plus, choosing vinyl rolls guarantees a fast installation that will be appreciated by installers, housing professionals and public institutions looking for an optimized cost for their projects (Private housing, Residential development, Social Housing).
Vinyl roll floors are affordably priced and on trend Tarkett's ICONIK vinyl range offers plenty of other benefits too:

• They come in a wide variety of designs from geometric patterns to realistic imitations of natural materials like wood or stone, which means a wider portfolio of designs to present to your clients.

• 100% phthalate-free and low VOC emissions means a better indoor environment and improved air quality

• Different technical features are available. ICONIK vinyl floorings offer comfort underfoot, soundproofing, resistance to wear-and-tear, or just straight up affordability, because like it or not, sometimes the bottom line is what matters most.

• ICONIK vinyl floors are swift and simple to install

• And of course, they are easy to clean and maintain

15 different vinyl flooring roll collections to explore different looks and features, all created with Design and Sustainability in mind.
Listing the ICONIK collections will ensure that you have the right answers to your customers' needs:
ICONIK Vinyl Rolls offer a wide choice of realistic designs and styles from simple monochromes to lively geometric and artistic motifs, simulated materials such as tiles, and textured renditions of natural materials like wood or stone. Whatever style or mood your customer is after, they will find something they like in our offer. Plus our latest range launch added 24 new designs: realistic ceramics, wood, concrete, and more!
Wood immediately conveys a sense of warmth and cosiness. Inspired by nature and available in narrow or wide planks layouts, discover all ICONIK wood effect vinyl rolls.
Concrete and Stone effect floors
Feel free to choose realistic imitations of natural materials such as concrete and stone. Recreate a modern style in your home with solid colours, lighter or darker shades of colours, or more natural shades that replicate the beauty of ceramic tile.
ICONIK offers you a lot of creative scope and freedom. Play with graphic and geometric patterns to enhance a child's bedroom or a kitchen.
Quieter and more comfortable: acoustic flooring with a textile backing
Our acoustic textile-backed products are suited to residential developers, private and social housing (Class of Use up to 32)
Textile-backing is one of ICONIK vinyl's comfort-oriented options. Textile-backing allows installation without glue for surfaces up to 50m²: easy to put down and easy to take up again when renovating. Textile backing also greatly improves comfort underfoot and provides sound insulation up to 20dB.

Thanks to the extra absorption, it covers irregularities in the surface beneath it, so there is no need to prepare the subfloor before laying down textile-backed vinyl. Save time and money!
All our textile-backing offers have a 'T' in the collection name, you can find them easily.
A Waterproof and scratch-resistant flooring
Resistant to everyday traffic and suitable for every room, ICONIK's highly durable vinyl rolls are designed to withstand rough treatment for years. Extreme Protection surface treatment means they can really be put to the test without scuffing or tearing. 

View high-resistance collections that come with up to 15 years warranty:
Affordable vinyl flooring for every pocket
Budget-friendly collections that offer plenty of choice without leaving your customers out of pocket.
 
We strive to create healthier and more people-friendly indoor spaces by designing high-quality, sustainable products. Tarkett ICONIK vinyl roll floors are 100% phthalate-free and have low VOC emissions which translates to better indoor air quality for the occupants. Our vinyl flooring is fully compliant with the REACH regulations.