Each of our strategic pillars inspires the actions we take to meet our 2020 objectives. Here are a few examples of how our teams throughout the world contribute to achieving these objectives and becoming a more sustainable company every day.
GOOD MATERIALS
Using good materials means that we choose materials that are safe for people and the environment, abundant, rapidly renewable, recyclable or made from recycled materials to make our flooring products.
Here are some examples of our actions:
Making a vinyl-based flooring containing renewable raw material
iQ Natural is a homogeneous vinyl-based flooring containing a bio-based plasticizer (castor oil).
Using recycled material to make new floor
Our Eco-BaseTM carpet backing contains close to 50% upcycled calcium carbonate sourced from a local water treatment plant.
Using non-phthalate technology
In 2009, Tarkett launched the first non-phthalate plastic floor and this technology was rolled out in 2014 in all plants in Europe and North America.
The market's first Cradle to Cradle® Gold certified linoleum floors
Our Originale collections (Originale Minerale & Originale Vegetale) as well as the 100% linen Veneto collections are the first and only Cradle to Cradle® Gold certified linoleums on the market. The Originale collection uses 100% natural raw materials and is made with vegetal pigments such as charcoal and walnut hull.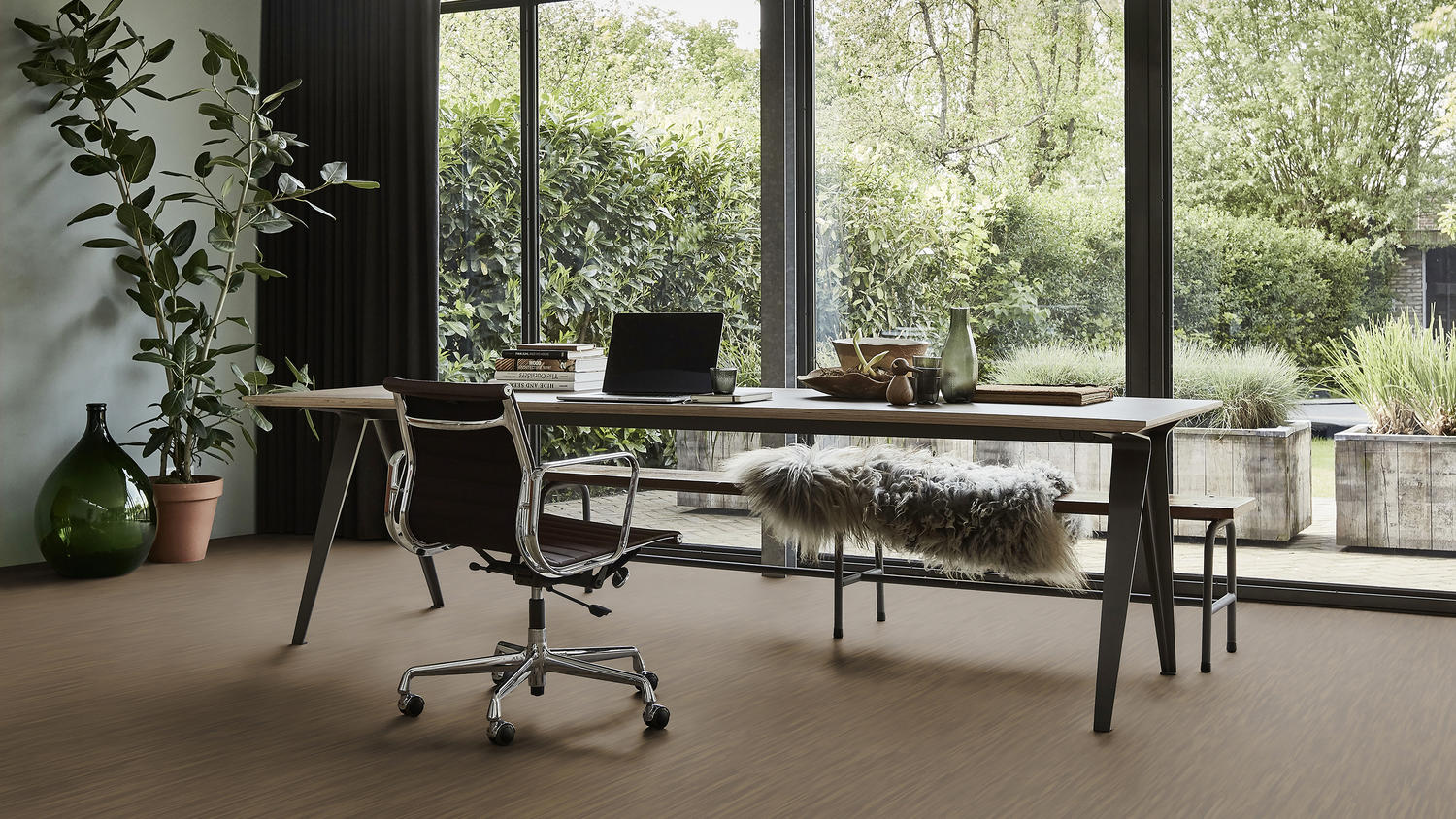 RESOURCE STEWARDSHIP
Our goal is to optimize resource usage in every step of the manufacturing process. We constantly look to implement an efficient production process all the while using the least possible raw materials.

Here are some examples of what we do for resource stewardship:
Highest product quality and environmental standards
- ISO 9001 (quality): 97% of our production facilities are certified
- ISO 14001 (environment): 88% of our production facilities are certified
- ISO 50001 (energy): Today 61% of Tarkett plants in EMEA are certified for energy management according to ISO50001 standard
World Class Manufacturing for continuous Quality Improvement
WCM is a continuous improvement and industrial performance program based on lean manufacturing principles. It involves systematic control, follow-up and development of manufacturing for best quality. The program is based on ten management criteria and focuses on people development and safety, operations efficiency, cost and environmental impact control.
Using renewable energy to optimize the use of resources
- Tarkett in Poland transforms production waste into wood briquettes. These are sent to a power plant nearby where they are used to generate electricity.
- Sawdust from our wood flooring in Sweden is used to heat our factories and can also be used for biogas production.
- 25% of our energy consumption are from either on-site renewable energy or renewable electricity suppliers
PEOPLE-FRIENDLY SPACES
One of our strategic pillars is to contribute to creating spaces that are safe and comfortable for people to live, work and play. Floors should be comfortable to walk on, easy to keep clean, provide good acoustics and contribute to a safe indoor environment.

Here are some examples of what we do to create people-friendly spaces:
New generation vinyl floorings for better indoor environments
Using non-phthalate plasticizers contributes to a better indoor environment. As early as 2009, the factory in Ronneby (Sweden) started using non-phthalate plasticizers in the production of homogeneous plastic flooring. In 2014, the introduction of non-phthalate technology began in all vinyl flooring units. Tarkett was the first flooring manufacturer to display the non-phthalate technology for vinyl flooring. The plasticizer Tarkett uses today is widely used for food packaging and toys for children under three years. In a few products, there might still be traces of phthalates left that come from recycled content in underlayers. 100% of the European and North American vinyl plants use non-phthalate plasticizer technology, 57% of products worldwide.
Tarkett's Starfloor Click vinyl collection is recommended by the Swedish Asthma & Allergies Association
Tarkett floors such as the vinyl StarFloor Click collection are recommended by the Swedish Asthma & Allergies Association. The iD Inspiration collection, but also the Acczent and iQ ranges are recommended by the Asthma and Allergy Foundation of America.
Low VOC emissions for people-friendly spaces
Tarkett is a pioneer in flooring solutions with low VOC emissions since 2011. In Europe today, 100% of Tarkett's floorings offer a low level of VOC emissions, from 10 to 100 times below the strictest standard in the world.
Plastic floors without biocides
For the Healthcare sector, to minimize environmental and health risks as well as the possible development of resistant bacteria, Tarkett has completely stopped adding biocides in its resilient floors.
Easier and sustainable maintenance thanks to protective layers
All Tarkett floors are easy to maintain thanks to protection layers that are developed to reduce the need for detergents and water. Tarkett was the first to launch the PUR surface treatment (polyurethane layer) on vinyl floorings in 1975: this surface treatment reduces the need to use cleaning chemicals and water but it also makes the floor more resistant. Effects are tangible on the life cycle cost.
Another example is our homogeneous iQ floor that is ideal for heavy traffic environments: with Tarkett's unique dry-buffing maintenance technique, the flooring is good as new with no need for strong detergents. Here is an example of the life cycle cost for iQ floors, compared to a polished hospital floor. For 10,000m2 of flooring, iQ floors offer:

- Up to 30% lower lifecycle cost
- 50% lower water consumption
- 20% savings on cleaning products
- Faster return on investment - Payback after three years
Floors for different needs
We have a wide range of specialty floors that, for example, offer optimal acoustics, provide good walking comfort, are non-slip or adapted for visually impaired people.
REUSE
In a circular economy, products no longer have an "end of life" but an "end of use". This is what we strive to implement in our production processes. We convert what was previously considered as waste into raw materials and new innovative products. Managing resources efficiently can be done by recycling installation scraps, using recycled materials in manufacturing as well as developing new products with good raw materials that in turn can be recycled.

Tarkett is engaged in recycling since 1957 and runs the ReStart® program in Europe and North America. ReStart® has been developed to collect and recycle clean leftover material from either post-installation resilient flooring or post-consumer carpets. It is then collected through partnerships with collection networks, before being processed in one of our eight internal recycling centers. 8,900 tons of post-installations or post consumer flooring are collected via this program around the world. In order to boost this program, Tarkett is working on two main drivers:

- Implementing cost-effective local take-back logistics with partners;
- Creating eco-designed flooring systems that can be easily uninstalled and disassembled for cost-effective sorting.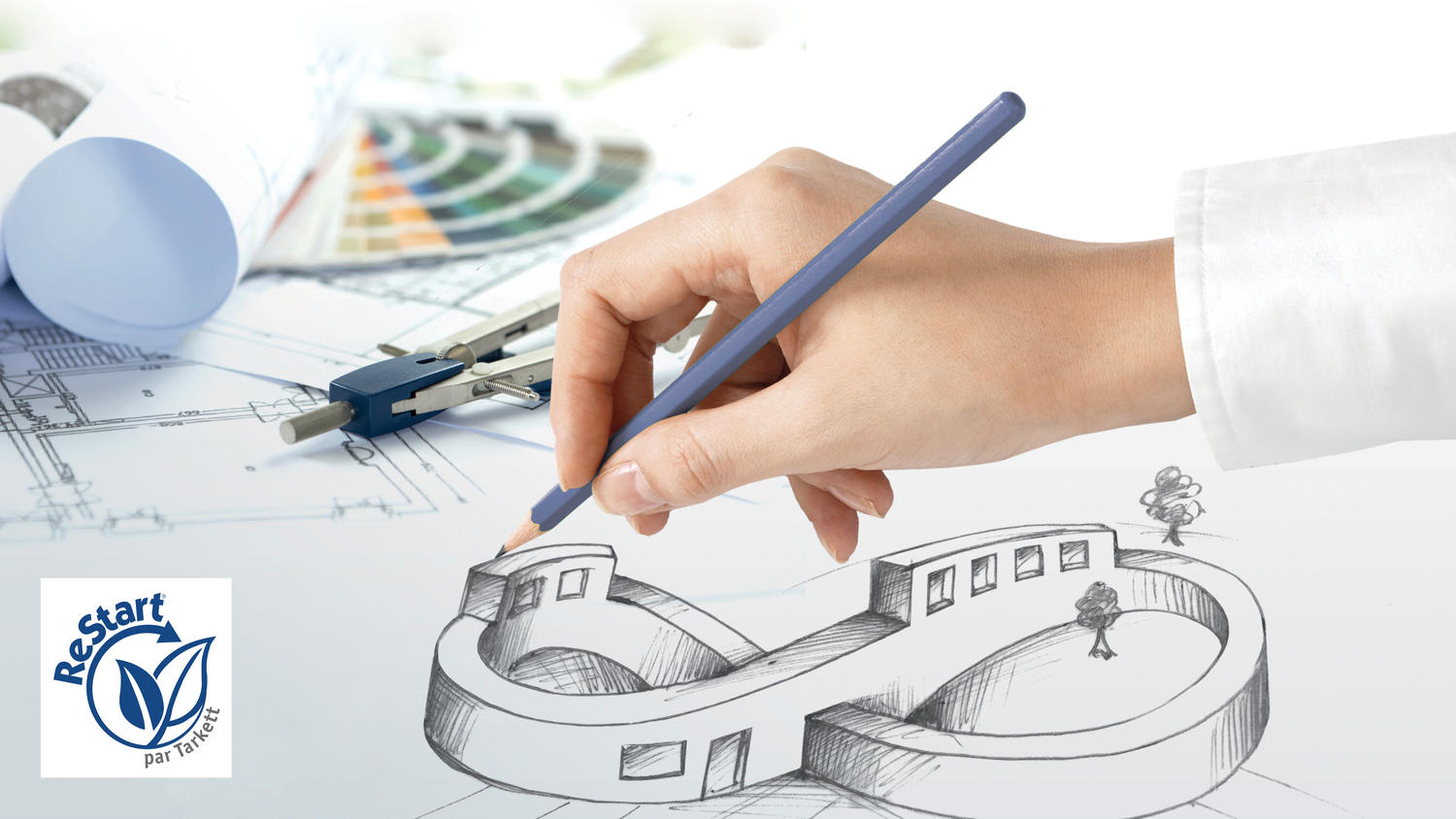 Here are some other examples of what we do to recycle and reuse:

- In 1996 Tarkett started the Nordic region's first and only facility for the recycling of vinyl flooring installation left-over scraps.
- The modular vinyl collection iD Inspiration consists of 52% recycled material.
- TarkoDry, an adhesive used for wet rooms, consists of about 85% recycled material.
- After use, Tarkett's linoleum and wood floors can be included as compostable material and thereby break down and form part of the biological cycle.
- Approximately 80,000 metric tons of recycled materials are used as resources, from flooring or from other industries
- Tarkett's production plant in Ronneby (Sweden) has developed waste sorting and recycling systems so that no waste goes to landfills.
An industry-wide system for post-installation collection
In 1996, Tarkett in Ronneby started a plastic floor recycling facility. Tarkett was one of the world's first companies to introduce a system for collecting post-installation scraps and to invest in a plastic floor recycling plant (PVC).

The system immediately became a success and after several years, more floor suppliers joined. Today, the entire Swedish flooring industry collects installation scraps via Tarkett in Ronneby. Tarkett in Ronneby has expanded its own collection and also manages installation scraps from Tarkett products throughout the Nordic region.
Partnerships for recycled sourcing
Desso carpet's EcoBase carpet backing is Cradle to Cradle ® Gold certified. To make this, we upcycle calcium carbonate from a water company and use regenerated yarns from used carpet and fishnets in Europe.
Tarkett partnered with Veolia, a leading French company in recycling, in France and Germany to accelerate its flooring recovery and collection program ReStart®. Veolia collects and sorts resilient post-installation flooring off-cuts from Tarkett's customers in the building industry. The flooring collected and sorted is recycled in Tarkett's production sites. This partnership sets out to double collecting centers in France and develop into other geographical areas. Similar partnerships are also in place in the UK, Belgium and Nordic countries with other local companies. In addition, further research is ongoing with other industries and research partners.
Related Article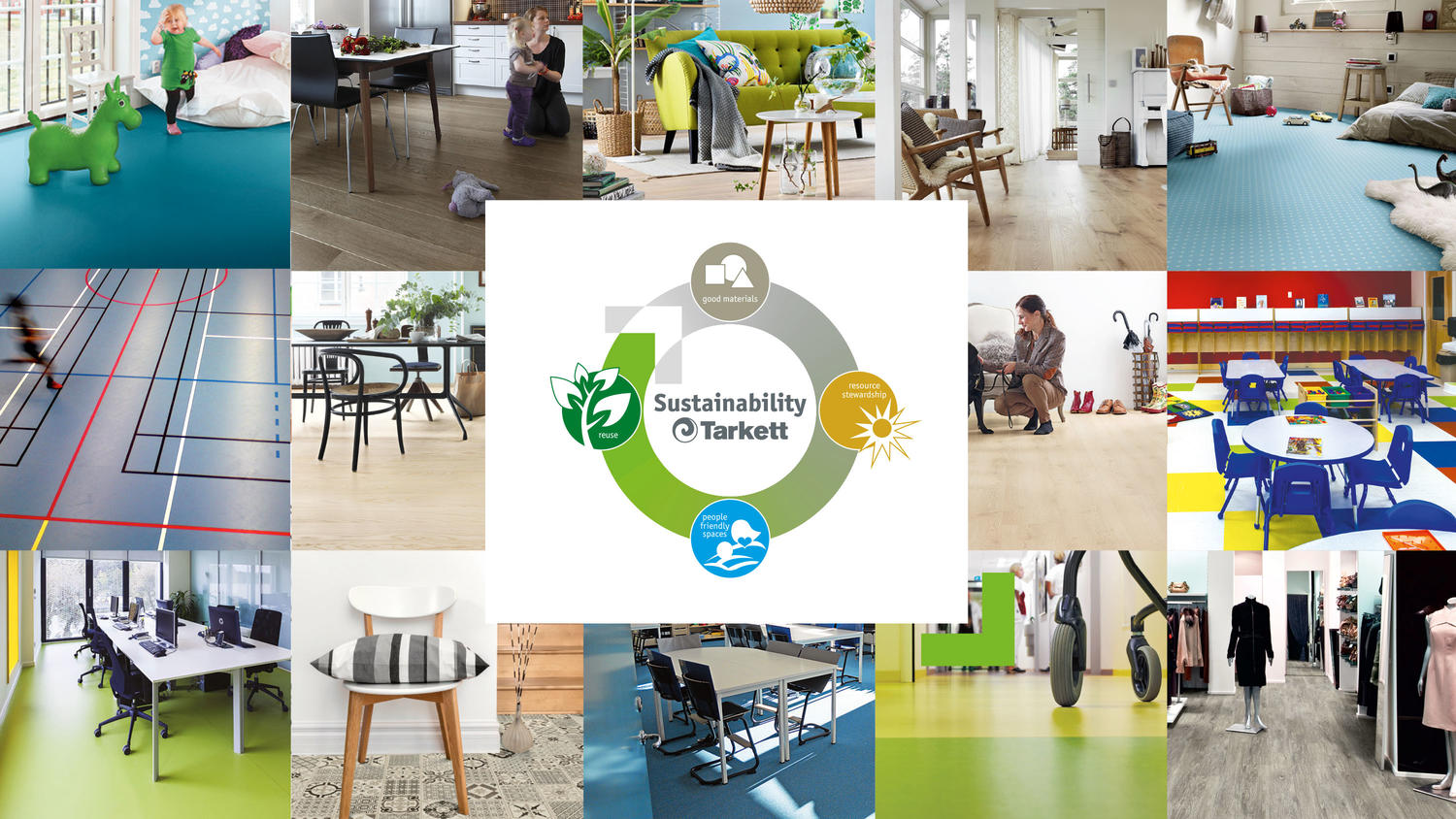 OUR SUSTAINABILITY STRATEGY
Tarkett's Sustainability Strategy for 2020 is based on four pillars aligned on the Cradle to Cradle® principles: Good Materials, Resource Stewardship, People-Friendly Spaces and Reuse
READ MORE