By 2050 there will be approximately 9 billion people on earth. This is three times as many as 50 years ago. Bearing in mind the Earth's natural resources are limited and our societies' appeal for higher and higher quality of life, it is necessary, today more than ever, to build businesses around a long-term vision for future generations and the planet. Our aim for 2020 is to pursue a vision in which people, the environment and profitability are all equally important.

This is why we are constantly looking for new long-term approaches and that we go beyond current legislation by putting sustainability at the centre of all the aspects of our business. Our 2020 sustainability roadmap is aligned with the United Nations Sustainable Development Goals (UNSDG) and deployed throughout the entire organization.
Our 2020 objectives for long-term sustainability
Tarkett continuously works to develop products that are safe for people and can be recycled. Our aim is to develop floors with good environmental characteristics without having to compromise on technical characteristics such as the floor's abrasion resistance, acoustic properties or other important features for healthy indoor air quality.

Our starting point is to develop products that can be recycled and that have the least possible impact on the environment during their lifetime. We collaborate with the Cradle to Cradle organization on sustainability issues and work towards leading transformation within the flooring industry towards circular economy and deploying a comprehensive sustainability strategy based on "closed-loop circular design". Tarkett influences industry standards, pushes for a collaborative circular economy and involves all stakeholders in this sustainability journey.
The following 2020 global objectives for the Group are organized around four strategic pillars:

Good Materials

• 100% of materials used in our products are continuously assessed by a third party (according to C2C principles)
• 75% of the materials at the source of our supply chain do not contribute to resource scarcity (mineral abundant, rapidly renewable, recycled)
Resource Stewardship
• 100% of our manufacturing sites have implemented closed-loop water circuits
• 20% reduction of GHG emissions against a 2010 baseline (1.01 kgCO2e/m2)
People-friendly spaces
• 100% of flooring products have low VOC emissions and use non-phthalate plasticizers
• Our flooring solutions offer maintenance and installation procedures following the Cradle to Cradle ® principles
Recycling and Reuse
• Zero industrial waste going to landfill
• Double volume of collected post-installation or post-consumer flooring and sports surface products, compared to 2010 (18,900 tons)
Related Article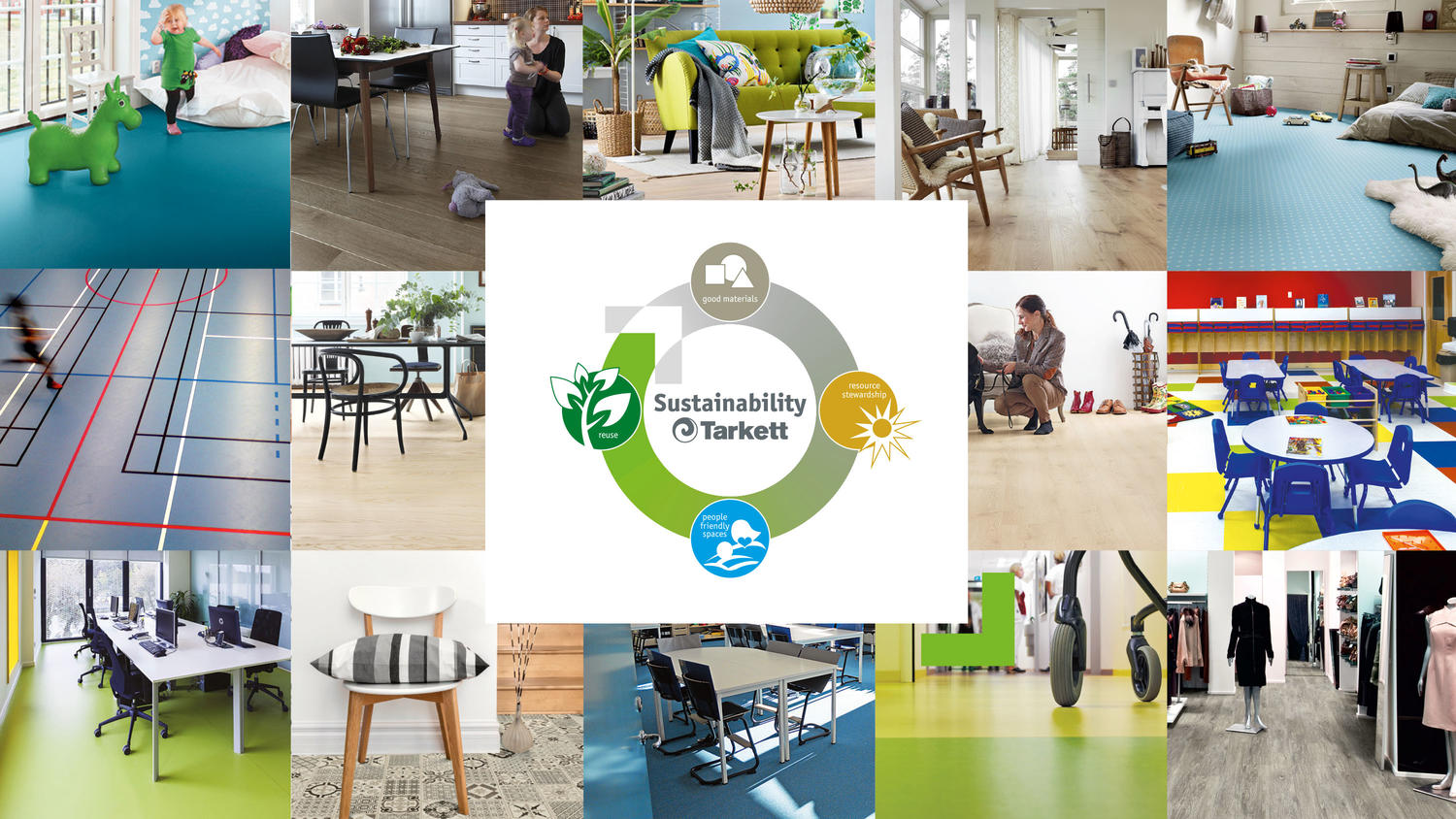 OUR SUSTAINABLE APPROACH: DOING GOOD, TOGETHER
Tarkett's Sustainable approach is based on three pillars aligned on the Cradle to Cradle® principles: Designing for Life, Closing the Loop and Driving Collaboration
READ ABOUT OUR STRATEGY TO ACHIEVE THESE OBJECTIVES