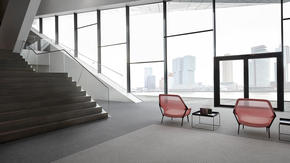 KEY FEATURES

Available in 12 colours
Ideally suited together with Edges Large in creative combinations for both aesthetic and functional effects
Standard with 100% recyclable DESSO EcoBase backing
Optional with the SoundMaster acoustic backing
Cradle to Cradle® Silver level certified
Edges is a new carpet tile design that expresses the genuine honesty of classic woven textile and its positive tactile feel. As a member of the Essentials collection, the look and feel of Edges has also been inspired by time-honoured fabric patterns. And because it offers a choice of delicate and bold structure, you can combine broad brushstrokes with finer detail. Edges Small echoes the warp and weft feel of textile, deliberately emphasising the slight irregularity of a hand woven product. Edges Small is available in twelve shared colours. Since Edges Small shares a family resemblance with Edges Large, they are ideally suited together in creative combinations – for both aesthetic and functional effects.
TECHNICAL AND ENVIRONMENTAL SPECIFICATIONS