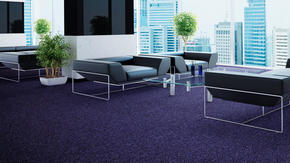 KEY FEATURES

Available in 60 colours
Standard with DESSO ProBase backing
Optional with 100% recyclable DESSO EcoBase backing
Cradle to Cradle® Bronze level certified
Contemporary yet timeless, DESSO Tempra is exceptionally hardwearing and highly functional. A smart looking tile, with a dense low- level loop pile and strong colour options, it provides just the right amount of style to inspire busy commercial offices. Available in a range of 60 colours with certain shades available in broadloom, the combination of creative design opportunities is endless.
TECHNICAL AND ENVIRONMENTAL SPECIFICATIONS