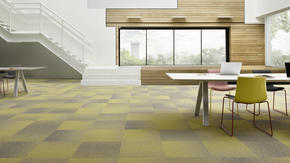 KEY FEATURES

Available in 8 colours
Suitable for creating separate zones and defined spaces
Standard with 100% recyclable DESSO EcoBase backing
Cradle to Cradle® Silver level certified
DESSO Pixelate, a striking carpet tile which uses colour gradients to create a truly unique flooring design Inspired by chromatic layers. The soft gradient design of the DESSO Pixelate tiles allow designers to work with colour layers and intensity to create truly unique spaces. Available in eight colours including brights and neutrals, the tiles transition between two different yarns, moving from a plain to multi-colour. Ideal for designers looking to create unique spaces with colour, each tile has a different colour transition and are designed to be installed randomly. The result is a unique finish, with the gradient of the products appearing in different directions to create an individual design with every use.
All carpet tiles in the DESSO 'Make It Your Own' collection are designed to allow architects and designers to play with textures, colours and material effects to tell their own story. The products in the collection can be arranged and combined to create separate zones and defined spaces that can contribute to improving people's wellbeing in the workplace.
TECHNICAL AND ENVIRONMENTAL SPECIFICATIONS