Who we are
Tarkett is committed to offer the ultimate customer experience, designing flooring and sports surfaces solutions for the well-being of people and respecting the environment.
Serving a wide range of segments with a breadth of products, we are dedicated to delivering excellence and generating value in innovation and sustainable ways.

Tarkett in the world
Tarkett's balanced business model leverages its global scale.
13500

employees

24

research laboratories

4

design
centers

7

recycling centers

1

research and innovation
center

36

industrial sites across the world

More than

2.7

billion euros in net sales in 2016

Balanced geographic exposure

44%
North
America
(incl. Sports)

36%
EMEA
(incl. Sports)

20%
CIS, APAC
& LATAM

Sales in over

100

countries

1.3

million square meters of flooring sold every day

Tarkett at a glance
For 130 years,
innovation, dedication to excellence, and a long-lasting
commitment to sustainability have made Tarkett a global leader
in cutting-edge flooring solutions, and sports surfaces for all market segments.
Segments
Home
Education
Workplace
Healthcare & aged care
Stores & shops
Hospitality, travel & leisure
Marine, aviation, transport & industry
Sports a Wellness
One of the broadest
product portfolios
Vinyl
Laminate
Linoleum
Rubber & accessories
Carpet
Artificial turf
Wood
Tracks



No. 1


in vinyl worldwide



No. 1


in artificial turf for sports fields worldwide

Operational and Sales Excellence
Tarkett has been deploying World Class Manufacturing (WCM) since 2009, identifying and sharing best practices, ideas, and internal benchmarks.
Local and central teams continue to improve safety, work environment, customer service, quality, and competitiveness.

"Our ambition remains to leverage WCM and people skills to become the reference in the industry in terms of safety and customer service."
Antoine Prevost, Executive Vice President Operations


"Tarkett focuses on becoming the easiest and nicest company to interact with."
Gilles Lebret, VP Customer Operations
Customer experience
In the same way that Tarkett has been developing value-added flooring solutions for end users, the Customer Experience 2.0 program focuses on bringing simplicity to our business partners such as architects and designers, installers, contractors, and distributors and helps them grow their business.

Addressing global challenges
Aligned with the 17 United Nations Sustainable Development Goals, Tarkett has been contributing for many years to five of them, deploying its 2020 sustainability roadmap throughout the entire organization.

Eco-design with good materials

Tarkett focuses on selecting good materials for human health and the environment, and strives to improve indoor air quality and contribute to healthy spaces.

Develop circular economy models

For Tarkett, a collaborative circular economy model is key to ensuring sustainable consumption and production, managing the end of use of products and transforming waste into high quality resources.

Combat climate change

Tarkett is committed to combating climate change, through energy management in industrial sites and the use of recycled materials.

Develop entrepreneurial & social responsibility

Tarkett's contribution stems from a safe and diverse workplace, encouraging dialogue, and engagement with local communities.

Foster stakeholder engagement

As a reliable recognized leader, Tarkett is spearheading an industry-wide dialogue over responsible use of resources and sustainability.

Embedded sustainability
Tarkett has been deploying a comprehensive sustainability strategy based on advanced "Tarkett Closed-Loop Circular Design", and today is leading transformation within the flooring industry towards circular economy inspired by
Cradle to Cradle® principles.

"It all starts with our customers. What inspires our holistic approach is people's health, well-being and quality of life on our planet."
Anne-Christine Ayed
EVP Research, Innovation and Environment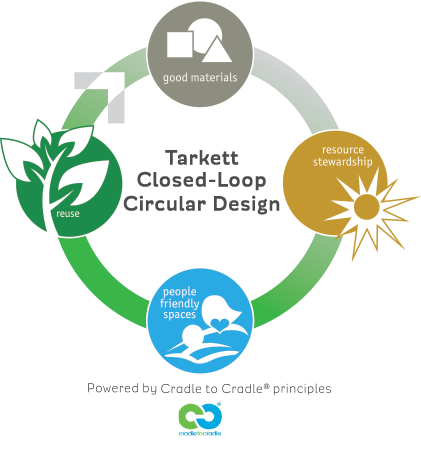 Contributing to
a circular economy
Tarkett is committed to the transition from a linear to a circular economy model, which consists of recycling resources in a loop from the design and production phases to later use and recovery stages.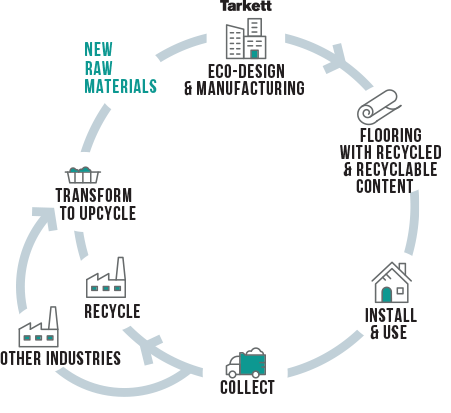 Committed to the transition to a circular economy.

Applying Cradle to Cradle® principles since 2011.

Dedicated to the UN's 10 principles and engaging suppliers to be as well.

Contributing to discussions on climate change, circular economy and the future of construction.

Entrepreneurial & social responsibility
Tarkett has a history of strong entrepreneurial spirit, empowering people to express the best of themselves for a better tomorrow.
Tarkett Awards is an international recognition program that rewards employees' contributions to the Group's success.

Tarkett Cares is a volunteering program that mobilizes teams worldwide to help people live better, sharing their time and talents with the local communities.

Tarkett Academy is a program that trains installers and young graduates.

Home
Colourful designs, acoustic comfort, and easy installation are Tarkett Trademarks, making every room in the House enjoyable living spaces.

Modularity and ease of installation drive the housing market.

Design

Tarkett offers products for every room in the house, dry and wet in all kinds of colours, patterns and formats to answer everyone's needs and tastes.

Tarkett's Starfloor Click 55 luxury vinyl flooring comes in 28 exclusive designs with a professional fold-down click installation system, commercial—grade wear resistance, and a 20-year warranty.

Sustainability

Indoor Air Quality: Tarkett has vinyl flooring solutions with volatile organic compound (VOC) emissions that are 10 times lower than the strictest standards in Europe.

Modularity and ease of installation drive the housing market.

Some references:

FRENCH POLYNESIA, Papeete,

Renovation of social habitat

— 5,000 sqm of heterogeneous vinyl
RUSSIA, Moscow,

Renovation of apartment complex

— 7,000 sqm of laminate

Education
From nurseries and schools to universities, Tarkett has expert knowledge of the educational space and offers a wide range of full solutions for a healthy, optimal learning environment.

Since 2010, over 116,000 metrics tons of carpet, LVT and waste have been reclaimed and recycled to date.

Design

Tarkett knows that quiet flooring in the right colour can positively impact learning.

The study that Tarkett led on children's perception of colour and space, confirmed the impact of colours on creativity and concentration, and led to the development of four colour emotion groups—Basic and Natural,Fresh and Optimistic, Cool and Calming, and Warm and Inviting.

Sustainability

Indoor air quality and well-being are key for both students and teachers.

It is achieved with the low VOC(1) emissions below regulation and non-phthalate plasticizer(2) technology flooring offered in Tarkett's iQ, Tapiflex, Acczent, iD Inspiration, and Safetred ranges.

(1) Volatile Organic Compounds
(2) Except recycled content for some products

Since 2010, over 116,000 metrics tons of carpet, LVT and waste have been reclaimed and recycled to date.

Some references:

REUNION ISLAND, Saint-Denis (Réunion),

North High School

— 5,000 sqm of heterogeneous vinyl
USA, West Lunn, Oregon,

Trillium Creek Primary School

— carpet
BELGIUM, Antwerp,

Karel De Grote College

— 8,000 sqm of vinyl and carpet

Workplace
Creative, sustainable flooring solutions for the workplace can also support people's efficiency and well-being by improving air quality, acoustics, and overall comfort.

A healthy, inspiring environment improves staff performance and productivity, reducing absenteeism.

Sustainability

Tandus introduced ethos® backing, which uses the PVC alternative, PVB, a high-performance polymer recycled from disposed windshields and safety glass. Additionally, Ethos Modular is the first American modular carpet tile to be Cradle to Cradle CertifiedTM Silver.

Innovation

In a connected world, where people work from anywhere, the workplace is changing. Its design is closer to home, more informal and relaxed with modular flooring and combined colours and materials.

A healthy, inspiring environment improves staff performance and productivity, reducing absenteeism.

Some references:

GUIANA, Kourou,

Renovation of Guiana Space Cencer

— 6,000 sqm of heterogeneous vinyl
FRANCE, Paris la Défense,

Allianz Office

— 42,000 sqm of LVT and carpet
RUSSIA, Moscow,

Offices in the famous Red October chocolate factory

— 1,125 sqm of LVT

Healthcare & aged care
Tarkett is a leader in helping care for people through comfortable, hygienic healing environments for staff and patients at hospitals and nursing homes.

1 hospital out of 2 in Europe is equiped with Tarkett flooring.

Sustainability

In addition to ergonomic environments conducive to healing, Tarkett solutions offer top indoor air quality and hygiene, and provide walking, rolling and acoustic comfort.

iQ One is a new generation of homogeneous non-PVC flooring that contains no plasticizers.

Design

Colours, light, and contrasts contribute to the well-being and safety for Alzheimer's patients.

Tarkett has conducted an extensive study among medical doctors and Alzheimer specialists to understand how flooring influences patient behavior and mood in medical facilities.

1 hospital out of 2 in Europe is equiped with Tarkett flooring.

Some references:

TURKEY,

Yozgat hospital

— 100,000 sqm homogeneous vinyl
SOUTH AFRICA, Cape Town,

Military hospital

— 14,000 sqm of homogeneous vinyl
NEW CALEDONIA,

Koné hospital

— 10,000 sqm of homogeneous vinyl

Stores & shops
From edgy boutique to mass-market chains, flooring plays a vital role in choreographing and enhancing the customer experience.

Good design can create a lasting impression on how people experience a space.

Design

Stores need to provide a unique experience that supports brand identity, improves the customer journey, and generates value.

Luxury Vinyl Tiles (LVT) are a perfect medium for playing with formats and colours. "Floor is the New Playground" is a new user-friendly site providing professionals with a gallery of photos for inspiration along with access to many flooring designs to play with formats, colours, and combinations.

Good design can create a lasting impression on how people experience a space.

Some references:

UK, London,

Marks & Spencer Oxford Street

— vinyl
RUSSIA, different cities,

Leroy Merlin shops

— 5,150 sqm of homogeneous vinyl
USA, Denver, CO,

NFL Denver Broncos store

— custom rubber tiles

Hospitality, travel & leisure
Tarkett helps hotels, restaurants and cultural establishments create exclusive experiences to build brand loyalty and grow their customer base.

Modular and custom-design solutions help create memorable spaces.

Design

Floors play a key role in building a unique, immersive experience.

Launched in 2016, Collections InfiniesTM is a digitally printed luxury vinyl tile (LVT) featuring designs from five internationally renowned artists and a co-creation tool enabling architects and designers to personalize designs.

Innovation

Tarkett offers a onestop shop, from eco to high end hotels, with various flooring.

Luminous flooring integrates Philips LED technology to greet, impress, and inform people in new ways.

Modular and custom-design solutions help create memorable spaces.

Some references:

SPAIN, Barcelona,

Hotel Catalonia Ainyó

(PLAZA) — 2,000 sqm of LVT
RUSSIA, St. Petersburg,

Hermitage museum

— 5,200 sqm of homogeneous vinyl
CANADA, Alberta,

Edmonton International Airport

— Powerbond, carpet

Marine, aviation, transport & industry
Tarkett is a major player in flooring solutions for the aviation, marine, automotive, bus & coach, and train industries.

Tarkett's multiple solutions meet the most challenging technical specifications.

Design

Tarkett offers an annual trend book and conceptual forecast for both the marine and aviation industries.

Innovation

Tarkett is broadening its marine portfolio with additional International Maritime Organization-certified materials in the carpet, vinyl and linoleum categories.

Tarkett's multiple solutions meet the most challenging technical specifications.

Some references:

Ocean cruise ship,

Koningsdam

for Holland American Line — carpet
KLM flagship "World Business Class" cabin

Sports a Wellness
Tarkett strives to contribute to performance and safety in sports and leisure, indoors and out.

Tarkett has over 25 years of experience in artificial turf.

Design

Tarkett customization solutions allow indoor and outdoor branding on sports hall flooring and artificial turf, boosting team visual identity.

Innovation

Tarkett places a priority on innovation to deliver a differentiated experience for all users:

CoolPlay artificial turf
Rise-N-Run hydraulic tracks
GrassMaster® Hybrid turf

Tarkett has over 25 years of experience in artificial turf.

Some references:

USA, Massachussetts,

Gillette Stadium

for Holland American Line — FieldTurf
ITALY, Milano,

AC Milan and Inter Milan San Siro Stadium

— GrassMaster® for pitch and FieldTurf for stadium surroundings
BRAZIL,

Olympic games facilities

(Media and press centers, the Athlete's village and some operational areas) — vinyl