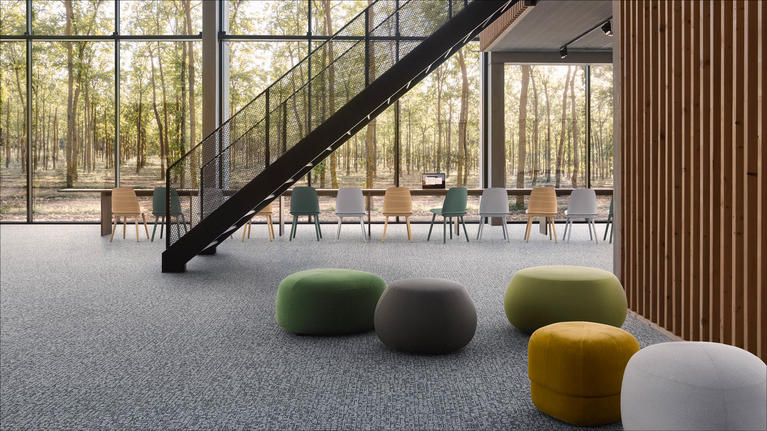 DESSO Orchard Carpet Tile Collection
The DESSO® Orchard collection with its understated, irregular dotted pattern is reminiscent of the visual effect that's created when viewing a cluster of planted trees from above. A subtle two-tone appearance inspired by organic, seasonal shades, gives the collection a simple yet sophisticated feel for contemporary workplace interiors.
Colour Palette
The versatile range is available in a palette of 12 colours, comprising eight neutrals, two warming accents of green and copper, plus an added tonal injection of pink and stormy blue.
Area's
Designed for seamless use on a large-scale, a duo of coloured yarns has resulted in the carpet tiles' unique textural appearance. The product can also be combined in multiple tones, to allow for 'zoning'.
DESSO EcoBase® Backing
DESSO EcoBase is 100% recyclable in our own production process and contains a minimum of 75% recycled chalk from the local drinking water industry.* In 2015, the DESSO EcoBase backing achieved Cradle to Cradle® Gold level certification and reached Platinum level for Material Health.
* Lloyd's Register assured the EcoBase backing as 100% recyclable and the chalk as 100% pre-consumer recycled material.
Optional backing DESSO SoundMaster® Lite
Less noise means more productive workforces. Quieter environments prevent health problems occurring*, reduce stress levels and improve concentration. That is why good sound absorption and sound insulation is so important. DESSO SoundMaster Lite achieves an improvement in sound absorption performance up to +0.15 (αw)**, equivalent to up to +100% improvement in comparison to standard carpet designs (αw value between 0.15 and 0.20)***. This felt backing is made from 100% polyester (80% recycled) and is specifically chosen for its advanced sound insulation and absorption properties.
* Environmental Noise and Health in the UK, Health Protection Agency, p.57-58, Noise in figures, European Agency for Safety and Health at Work, p.70-73.
** Tests performed at SWA (Schall- und Wamemessstelle Aachen GmbH) – Institut für schalltechnische und wärmetechnische Prüfungen - Beratung - Planung.
*** To compare: other flooring solutions (non-carpet) generally give a value between 0.05 and 0.10.