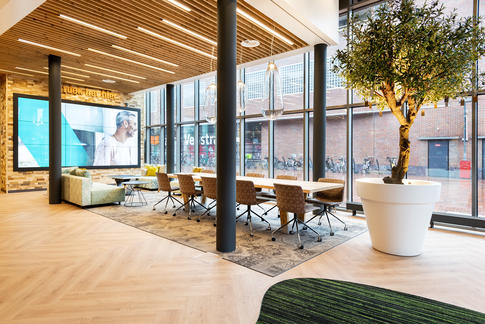 ABN Amro Offices
2018 | Amstelveen, Netherlands
ABN Amro's renovated office is located in Amstelveen on the outskirts of Amsterdam. This sustainable building has been developed with "new banking" in mind. Its flexible office design allows the bank to exploit the building in new ways and with new technologies.
For the building, the client opted for sustainable materials including insulation walls made from 100% recycled, Dutch paper waste. Tarkett iD Revolution was chosen for 800m² of flooring. iD Revolution, the first Cradle to Cradle gold-certified modular resilient flooring, is made from 100% recycled and bio-based materials, all of which have been assessed as safe for installers, users and the environment.
With Tarkett's iD Revolution flooring solution, ABN Amro ensures a sustainable floor inspired by circular economy principles. Tarkett's sustainability philosophy fits seamlessly with the bank's aim to create offices that are good for people and the environment. As a result, ABN Amro is partnering with Tarkett for additional offices in Oosterhout and Waalwijk.
The different materials used in the building come together to create a coherent design and appearance with playful elements, giving the office an air of professionalism, comfort and warmth. As iD Revolution floors are easy to maintain, the whole interior space represents a perfect combination of ease of use and design.
About
Design, comfort and ease of use in a sustainably-designed building that benefits from Tarkett's Cradle to Cradle gold-certified modular resilient flooring.
Designer/ Architect
Koppes Bouwkunde