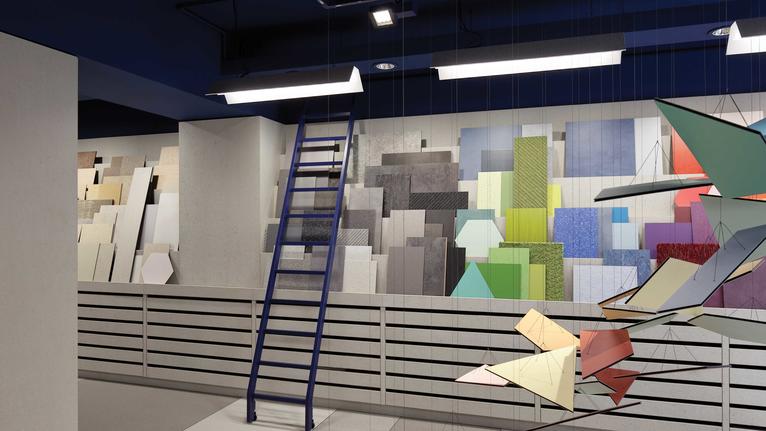 Birth of the project
Dedicated to architects and designers, Atelier Tarkett is totally unique hub, both in its concept and in its approach to the subject. The result of a collaboration between Tarkett, the floor coverings manufacturer and the 5.5 design studio, Atelier Tarkett should be considered as an extension to the architect's and designer's office. As a space for exchange and co-creation, Atelier Tarkett is a tremendous project accelerator. A source of inspiration, discovery and creativity at the very heart of Paris, it provides a new destination for architects, designers and their clients.
Tarkett is strengthening its support for and dialogue with the architecture and interior design professions. With this new address in the Haut-Marais, the brand is offering architects and designers a central working area with easy access, to inspire and accompany them in their projects. Atelier Tarkett is a blend of different spaces for the display of materials, experimentation, meetings, advice etc. A welcoming and unique place of exchange designed to demonstrate the creative potential of the brand's flooring solutions and floor coverings.
As Jean-Sébastien Blanc, the studio's co-founder and creative director, says "Our idea was to design an place that acts as an extension to the architect's office, where they can feel at ease, where it's a pleasure to work, and to which they will wish to return and spend some time: not just to find samples, but to find inspiration and boost their creativity".
Birth of the hub
Besides rehabilitating this former jewellery workshop with a bespoke interior, the 5.5 design studio worked with Tarkett in the strategic positioning of the location to reinvent the very concept of the showroom and make it a true brand experience. The mission also included the creation of the visual identity that guarantees a fully coherent whole.
One of the Atelier's objectives is to demonstrate the creative potential of the floor covering solutions. The floor has to be shown as a material to use, think about and work with. It is an approach that goes hand in hand with the work of 5.5, in terms of its use, feel and brashness. More than just a showroom, Atelier Tarkett intends to make the floor a true field for expression.
An extension to the architect's office
Adapted to the specific needs of the architect, Atelier Tarkett comprises various spaces for products and services, such as a library, lab, digital tools, meeting room, kitchen, etc., with a warm, creative atmosphere.
The workshop as a whole is a demonstration of the brand's products, in inventive, audacious settings, with unusual applications. Conceived as a multifaceted and multidisciplinary workshop, Atelier Tarkett blends modularity, flexibility and multipurpose spaces.
Discovery spaces (Showroom, showcase, garden)
Project development spaces (ID Lab, meeting room, locker area)
Inspiration spaces (library, gallery)
"Blue, the binding theme of this place of inspiration"
Useful information
By bus: Bretagne - Bus 96 (3 min)
You can find information about Atelier Tarkett here.
Atelier Tarkett - 01 41 20 43 00
43 rue Saintonge, 75003 Paris
By Métro: Filles du calvaire - Metro 8 (5 min), République - Métros 3, 5, 8, 9 and 11 (6 min)
By bus: Bretagne - Bus 96 (3 min)
Nearest car park: Garage de Bretagne / 14 rue de Bretagne 75003 Paris
OPENING TIMES:
Monday, 11 am to 6 pm
Tuesday to Thursday, 9.30 am to 6 pm
Friday, 9.30 am to 4 pm
Drop in any time or make an appointment (by phone on 01 41 20 43 00 or complete the form below).