Building Sustainable Schools
Sustainable, eco-friendly schools or universities are something that students and parents want. The same is true of teachers, and of the institutions and authorities that commission the buildings in the first place.

We are committed to making the right choices when designing our flooring, to using the right materials and the right processes. We make sure our products are better for people's health and well-being, and also better for the planet, with lower carbon emissions and improved recyclability.

And that's why we can help you make the right choices for your project, for people and for the planet.
Reducing the environmental impact of educational buildings
Our floors are designed from the very start, using healthier, more environment-friendly materials that can be recovered, recycled, and transformed into new products.
We care about the impact of our floors' on occupant's health and well-being, particularly on indoor air quality.
We are constantly working on reducing our cabon footprint, especially through monitoring of our productions, or with increasing recyclability of our products.
Calculate your project's carbon footprint
Working on a school project? Here is our tool to calculate its carbon footprint.
Selecting school floorings made from quality materials
Make sure to use school floorings made from carefully selected materials, as these can seriously impact the quality of the indoor environment, and the right choices can cut the risk of potentially harmful effects on children's health.
Phthalates, for example, are a common contaminant in indoor environments, and research suggests that they can have a detrimental effect on human health. Selecting good materials is also essential to recycling products effectively at end of use, ensuring your establishment is an active participant in the circular economy.
Our Commitment
We use the Cradle to Cradle® approach to eco-design for our floorings, ensuring that we can close the loop (circular economy) by recycling, and reusing the recycled materials in future production. In doing so we're not only reducing waste, we're also helping preserve the planet's natural resources. 
Cradle to Cradle® is also your guarantee of radical transparency about our products as we subject our processes and materials to rigorous external scrutiny. This means you can be 100% clear on the health and environmental performance of our flooring products and confident in your choice.
What we offer
Phthalate-free products
Flooring collections containing bio-based or bio-sourced materials.
Responsible use of PVC
Responsible sourcing: use of materials that are abundantly available in nature, rapidly renewable or recyclable.
Full transparency on our production, providing third party assessments (EPD, MHS)
Caring about indoor air quality & well-being
Exposure to indoor allergens is one of the highest risk factors for developing asthma, especially among infants. So indoor air and environmental quality really matter for the overall well-being of the young, who spend so much time in schools and educational buildings.
To improve indoor air quality, particular attention must be given to airborne particles such as dust and Volatile Organic Compounds (VOCs). It's important to look at reducing emissions at the source, by carefully choosing construction materials, furniture, and cleaning agents.
Our Commitment
We produce floorings that participate in creating healthy indoor spaces with the highest standards of Indoor Air Quality.
We make sure to always have knowledge of the chemical components of each of our raw material and who continuously optimise towards safer materials. This is still part of the C2C approach, which has led us to produce highly detailed Environmental Product Declarations (EPD) and Material Health Statements (MHS), both third party assessed.
It's our way of offering complete transparency on the composition of our products, avoiding harmful substances and working to optimise our product formulas.
What we offer
Flooring solutions with low or ultra-low VOC emissions; between 10 and 100 times lower than the toughest global standards
Asthma and allergies certification
Cleaning protocols that reduce the use of harmful chemicals
Carpet tiles that reduce the concentration of fine dust in the indoor air
MHS and EPD certificates
Choosing floorings recyclable post-use
One of your main challenges nowadays when constructing an education facility is to limit and reduce the embodied and operational carbon emissions of the building.
Ensuring that the floor you install in the school can be recycled after use is an important consideration to aim at carbon neutrality of your building, and therefore in reducing its impact on climate change.
Also, the use of recycled content in the production, reduces the amount of virgin raw materials required to make new floorings.
Our Commitment
We continuously work on closing the loop on waste, using more recycled content to preserve our planet's natural resources, and by recycling our products at their end of life. This allows our production to participate in the circular economy and ultimately reduces the carbon footprint of our floorings.
What we offer
6 Recycling centres in EMEA
Only manufacturer in Europe to pioneer closed-loop recycling for post-use carpet tiles, linoleum and homogeneous vinyl
Our ReStart® programme offers hassle-free flooring take-back
Using and increasing use of recycled content in our products (objective of 30% by 2030)
Continually working to reduce our carbon footprint (objective of 30% by 2030 on scope 1 to 3)
Consider durability of your floorings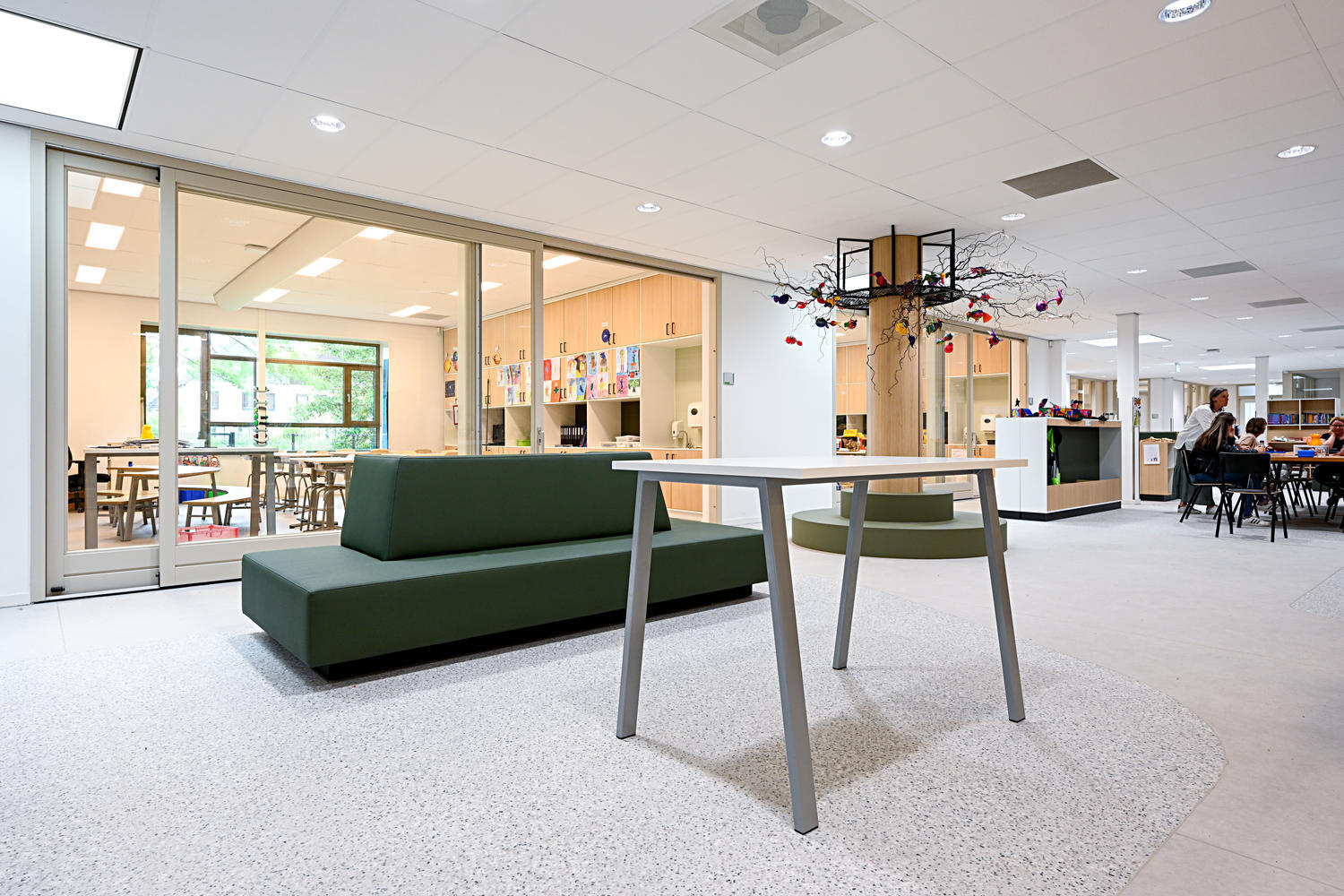 Naturally, you have to consider the economic aspect of your project too. Costs must be carefully considered and optimised. Bear in mind however, that your estimations should not be based solely on the only the initial purchase and installation costs. Ongoing costs, which are affected by durability, reparability, cleanability and maintenance must also be carefully considered when choosing your floorings.
The overall life cycle of the product must be considered: wrong choices at the outset can end up in costing much more over time, both environmentally and economically.

Considering life cycle costs, financial and otherwise, will help building owners keep a handle on their establishment's operational budget, while also doing what's best for the comfort and well-being of students and staff, and for the environment.

Implementing a life cycle cost approach:
Tarkett Life cycle cost (LCC) approach involves assessing the total cost of materials over the building's whole life cycle, from initial costs (purchasing & installation), to maintenance costs, and ultimately replacement costs too. It will be especially relevant to your flooring decision where maintenance and replacement costs can be highly variable.
To obtain an estimated total ownership cost for any of our flooring solutions, please speak to your local contact.
Recommended floors for education buildings
Discover our recommended floorings to build eco-friendly schools.
These collections are part of our Circular Selection, which regroup our best in class products when it comes to sustainable criteria: good materials inside, Phtalate-free, optimal VOC level, AND RECYCLABLE POST-USE.
Bio-based linoleum flooring - Cradle to Cradle certified ® Gold or Silver
Fine dust reducing carpet tiles - Awarded with GUI Gold Plus label
Loose lay heterogeneous vinyl - Installation with no glue