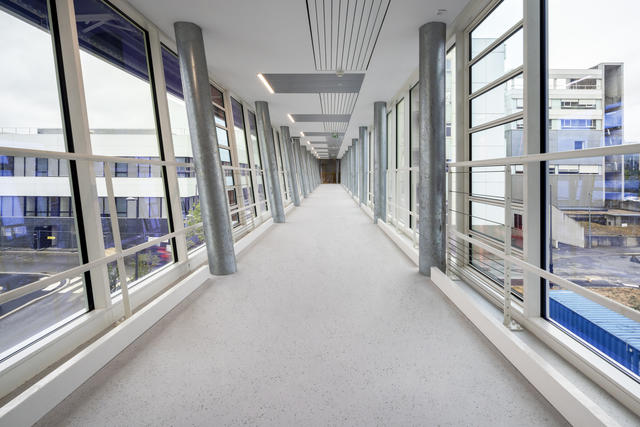 CH le Mans
2020 | Le Mans, France
Crédit photo : © Briag Courteaux


The architecture studio of Michel Rémon & Associes was selected to rethink the interior design of the entire Le Mans Hospital Center. Their mission was to create an overall architectural coherence for the outpatient department, in order to make it easier for visitors and patients to find their way around the hospital:
"We started the project by first renovating the outpatient department. We then continued to work on the rest of the hospital, using different colours for each department."
Finding solutions to the challenging requests of le mans hospital center
The Floors
Tarkett's Acczent Platinium heterogeneous compact acoustic vinyl range was chosen for the Madeleine-Brès and Plantagenêt buildings (hallways, bedrooms, doctors' offices, consultation rooms and the dialysis department). This floor covering has exceptional durability, an excellent technical performance and first-rate environmental features (100% recyclable and eligible for the ReStart program).
The Walls
Tarkett's ProtectWall vinyl wall protection range was chosen, because it is durable and highly resistant against impacts from trolleys, chairs, medical beds, disinfectant products, and so on.
The Showers
Tarkett's Granit Safe.T (floor) and Aquarelle Wall HSF (wall) ranges were chosen, because they guarantee total impermeability for wet rooms.
 
Spaces, materials and colors
"In the outpatient clinic, discreet colours were selected to outline the different departments of the hospital."
Frédérique F. Thomas, Interior Architect, Visual Artist, Colorist

The general contractor and the architect thought it best to use a different colour for each department, so that patients and visitors can easily find their way around the hospital. They believe that it is also a pleasant way to avoid tension and anxiety that can be felt when lost in such a large building.

Light and sober tones were chosen for the floors – Tarkett's Heterogeneous Platinium flooring, Plazza pattern in a beige colour was chosen for the corridors and the dialysis service. The floor design is a semi-plain that matches all colors.
About
Read more about Le Mans Hospital Center and how the patient experience improved thanks to a new interior design and signage using Tarkett commercial vinyl flooring.
Designer/ Architect
Michel REMON & Associés