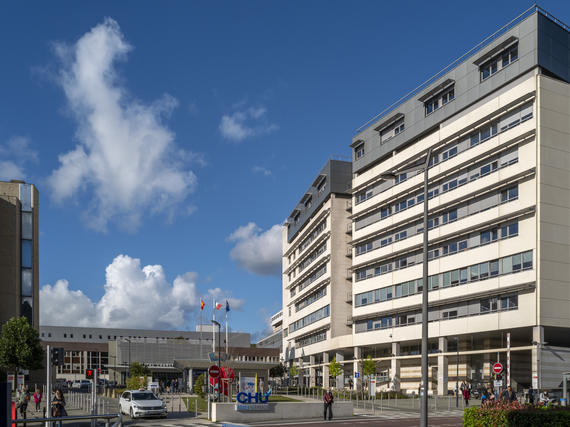 Rouen University Hospital
2021 | Rouen, France
Q&A on the innovative and collaborative interior project at Rouen University Hospital, Uro-digestive and Oncology Department. 
Completion date: January 14, 2019.
Mr. Philippe Coulon, DPLG architect of Rouen University Hospital, Professor Pierre Michel, Head of the Hepato-Gastroenterology Department and Mrs. Isabelle Joubard, Health Manager at Rouen University Hospital all worked together on the innovative interior project at the Rouen University Hospital. Here is there feedback.
Can you tell us about this innovative and collaborative renovation project?
Philippe COULON: The project is called "HORS LES MURS" or "OUTSIDE THE WALLS" because the space is physically placed at the entrance of the hospital and faces the exterior. The design brief was quite detailed and very clear, so the renovation work was especially fluid and effective. We were very proud.
Can you please explain your approach in choosing the new design of the hospital?
Pierre MICHEL: We chose to use a collaborative approach. All the specialists involved in the project shared their expertise in order to create an innovative project that focuses on the participation and well-being of the patients, caregivers and professionals. The project was conceived in 18 months, thanks to the active collaboration of all stakeholders and open communication between the different users. It was an outstanding and long-lasting teamwork!
What feedback did you receive on the design of this service, from the patients and caregivers?
After a few months of using the service, the patients were very satisfied with the serene atmosphere and the comfort of this service. So much so, that patients come from far to benefit from both the medical and interpersonal quality of care.
The nurses were involved in the design of the project. They designed their desks and chose recycled cardboard furniture that is manufactured locally. The prototypes created and installed in the classrooms were also tested by the care staff. The collaborative effort was much appreciated by everyone and resulted in positive feedback from the caregivers.
Why did you choose Tarkett's AirMaster carpet tiles and iQ Optima vinyl flooring?
The goal was to create a space that does not look like a regular hospital. Tarkett's carpeting and wood decor installed in the offices, were the perfect choice for creating an aesthetic, bright, calm, friendly, intimate and functional space.
Philippe COULON: I chose Tarkett's AirMaster carpet tiles for its environmental qualities and contribution to good air quality. We also installed Tarkett's iQ floor coverings since they are easy to clean and maintain.
What feedback did you receive on the choice of floor coverings, from caregivers and patients?
The feedback is very encouraging. The atmosphere is very calm thanks to the carpet choice and the patients are very satisfied.
Photography: Briag Courteaux
Making conscious choices. For people and planet.
Tarkett Human-Conscious DesignTM.
About
Discover the innovative and collaborative interior project at Rouen University Hospital and how Tarkett's floor coverings contributed to the success of the project.
Designer/ Architect
Philippe Coulon, architecte CHU Rouen
Building owner
CHU Charles-Nicolle Rouen