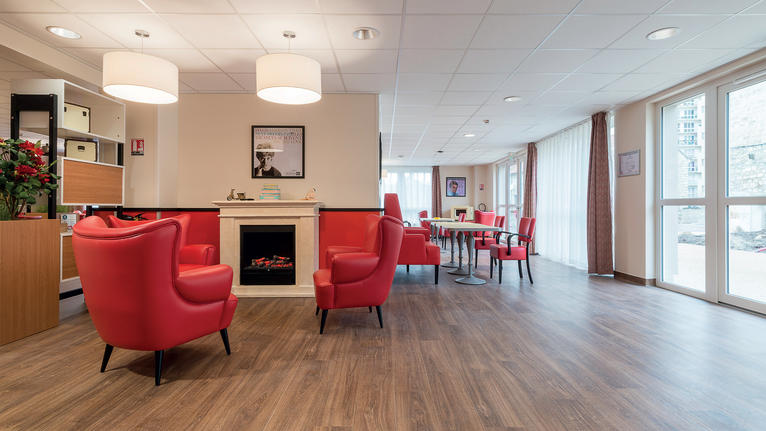 Designing supportive spaces for the Elderly with the right floors
Caring for the elderly is one of our Society's greatest challenges. Even though science and research have enabled us to live older and healthier, there comes a time when a person's reduced autonomy makes it necessary to move to a Nursing Home. These institutions welcome elderly people with age-related changes that vary from one person to the other. In order to offer them the best living environment in terms of safety, stimulation and comfort, Nursing homes need to be designed carefully. Managing costs effectively is also part of the challenges that Nursing Homes need to take into account.
To create the best living environment for the elderly, choosing the right floors with the right properties and designs is crucial. Below are some insights into how flooring can contribute to the best Care Home design for elderly people's well-being. These recommendations are based on the results of field research Tarkett conducted. A White paper on "Designing supportive care homes for aged care and dementia" was published recently to share these results.
Coping with age-related changes
The first challenge in Nursing Homes is that residents are dealing with age-related changes that affect the way they perceive the world around them, in their sight, hearing or cognitive capacities.
Residents need their senses to be stimulated: this makes their day-to-day lives easier and also slows down the ageing process. There are various ways to engage the senses and boost perception:

- Creating a warm and familiar atmosphere through design, wood-effect surfaces or familiar floor tiles. This way residents have the feeling they are in their own home. Our LVT collections with wood designs can provide the familiar feel that makes elderly people feel comfortable. Another way to create a familiar atmosphere is to encourage residents to personalize their room with objects, pictures or colours that bring back memories and make it their own personal space.

- Lighting needs to be adapted to elderly people. Uniform lighting levels need to be at least twice as bright as for younger people. Avoid areas of shadow to prevent confusion and help orientation. Ensure at least 30 points difference in Light Reflectance Value (LRV) between floors and walls, and at least 70 points in stairways. Also remember to use matt finishes to avoid dazzle - a reflective index of 20-40% is visually comfortable with no risk of dazzling.

- Choosing materials that reduce sound exposure. Someone with hearing difficulties needs a quiet environment to communicate with people. Noise is a primary source of anxiety for people with Alzheimer's disease. Tiling reflects sound waves but flexible flooring absorbs them, reducing noise pollution. Choose absorbent materials to maximise acoustic comfort. Our floorings with acoustic properties are well adapted to the needs of different areas inside a Care Home.
All of these recommendations have one unique purpose: to help stimulate the senses (audition, touch, vision) and ultimately delay the ageing process by enhancing cognitive performance.
Providing Safety and Building Confidence
The most common serious accident of old age is falling, and poor vision is often to blame. Indeed, one in three "over 65s" and two in three "over 80s" have a fall at least once a year.
Making it easier and safer for elderly people to walk in Care Homes is very important because walking is key for healthy ageing (and health in general). It stimulates all the functions of the body and the brain by helping maintain cognitive capacity. When they stop walking, elderly people see their health decline. Therefore, offering residents a safe and healthy environment contributes to providing the stimulation that slows the decline in their cognitive ability.
There are various ways to make Care Homes safe walking environments for residents:
- Coping with poor sight and anxiety through interior design and a good use of contrast. The floor should encourage people to move and walk. Using contrast in colours in these areas can facilitate residents' orientation. However, we recommend avoiding sudden changes in flooring as they can be strong obstacles for people with cognitive difficulties. Also, complex patterns or dark colours can provoke anxiety in dementia-sufferers. For instance, a black area on the floor can be perceived as an obstacle by dementia-sufferers and ultimately make them afraid to walk. It is therefore best not to use sophisticated patterns on the floor and to avoid dark zones in a corridor for example (dark flooring, shade). Our HE collections such as Tapiflex , Acczent Excellence and Platinium, or our LVT iD Inspiration collection are best adapted to this need because they also come in neutral designs.
- Encourage walking with reassuring spaces and floors that are easy for feet and wheels.  It's important to choose a floor with low roll-resistance and good walking comfort both for residents and medical staff. Corridors and transit areas must be wide enough for wheelchairs and beds to navigate easily. Highly visible handrails and rest points are important to reassure elderly people.

- Avoid slipping: use safety flooring where people move around barefooted (such as in bathrooms)
Managing costs effectively in the face of ever-tighter budgets
Managing costs effectively is one of the challenges of any Nursing Home. There are many ways our floors can help manage Nursing Homes more effectively, reducing costs and making work easier for staff:
- Fast renovation:  the speed of bedroom renovation affects the operation's profitability. Our loose-lay solutions for high-traffic areas are a good option for quick renovations.
Acczent Unik, for instance, reduces installation time by 40% versus glued flooring solutions. Plus, loose-lay solutions can be used immediately after their installation as they do not require any glue drying time.
- Staff efficiency: The work in care homes is demanding for the staff, both physically and mentally. A better working environment reduces stress and fatigue. Our floorings offer lower roll-resistance for beds, trolleys and wheelchairs. This property also makes them more comfortable to walk on.

- Maintenance: Our Life Cycle Cost (LCC) software analysis shows that it costs 10 times more to clean and maintain the flooring in a public place than the original purchase and installation. This means that, over 2 years, cleaning and maintenance cost as much as the flooring itself. Choosing a flooring solution that needs less maintenance is a long-term investment for Care homes. Our unique surface treatments such as TopClean XP and XF2TM make our floors more durable, easy to clean, and therefore extremely cost-effective:
They are resistant to abrasion and heavy traffic, and they require no wax, no polish and no strip;
They resist indentation;

The surfaces are smooth and impervious, therefore easier to clean;

They are highly resistant to stains, cleaning agents, disinfectants and urine.
Working with a responsible supplier
A responsible supplier is proactive about people's health and preserving the environment. Choosing a supplier that cares for people and the environment is bound to have positive effects on both residents and staff.
Caring for people
Designing our products for Life
Products that contribute to a healthy indoor environment
We focus on reducing interior air pollution. Our products' emission level for volatile organic compounds is 10 to 100 times lower than the strictest European standards and regulations. For example, our  iQ ranges are certified "asthma- & allergy-friendly" in North America, Sweden and the UK. Plus, our products are Phthalate-free. This means we use plasticizers approved for food containers and toys intended to be placed in the mouth of children.

Products that preserve natural capital
The light reflectance value (LRV) of our products can help reduce energy consumption. Their composition and colour influences their ability to reflect external natural light, which can minimise the need for artificial lighting.

Products that improve staff's work environment
Our products are designed to optimize staff efforts, thus reducing fatigue and stress.
- Reducing tiredness and physical discomfort with low roll-resistance, wheelchair- and patient lift-friendly floorings
- Removing obstacles for residents and helping them move around without stress, allowing staff to focus on core tasks
- Providing surfaces that are easy to maintain and resist stubborn stains, such as from urine.
Offering integrated solutions
We don't just supply floors, we offer integrated solutions including wall coverings and accessories to meet all the needs of your Care Home. We have a solution for every space's specific requirements:
- Where PVC can't be used our  latest iQ offering provides the same capabilities and design options as the rest of the range in a PVC-free format.
- In acoustically sensitive spaces calling for a specific ambiance with effective noise reduction, a heterogeneous solution can provide a comprehensive choice of patterns including wood. Heterogeneous solutions also offer a very large selection of beautiful designs.
- In patient's rooms, our  linoleum options are a good choice as they are close to 100% natural flooring solutions.
- All our flooring solutions can be combined with wall protection such as our brand new  ProtectWall , Wallgard and Linowall. For a durable, impact- and scratch-resistant finish that will cut refurbishment costs.
One of Tarkett's strategic sustainable development pillars is to create People-Friendly Spaces. This also means we are committed to building knowledge around the needs of the people who walk on our floors by conducting research with design experts on a regular basis. Tarkett recently published a White Paper to share research results on how to "Design supportive care homes for aged care and dementia" to contribute to well-being in Nursing homes. Tarkett conducted field research to better understand the needs of Care Home residents as well as Staff, Management teams and resident families.