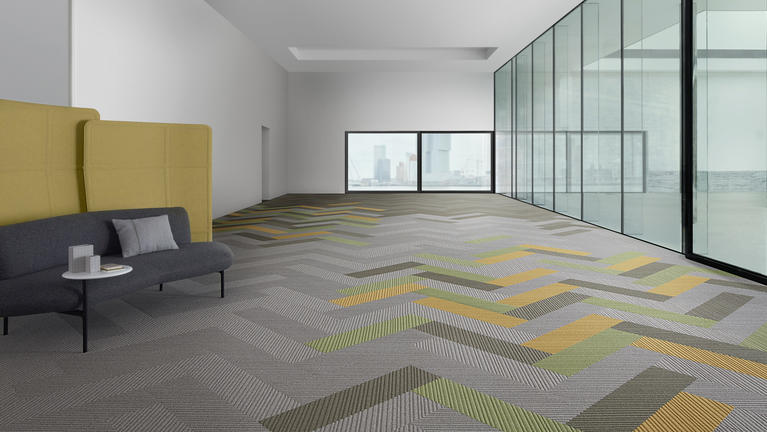 DESSO Essentials carpet tile collection
Living in a fast paced world, we face too many decisions and overwhelming choices. Increasingly, we're searching for simplicity and authenticity in our surroundings and the products we select and enjoy. Sometimes less really is more. Step back and experience the DESSO Essentials carpet tile collection, which reflects the different styles of the modern workplace.
Inspiring workplace
Part of the Carpetecture® family, Essentials is another example of a collection conceived from the growing awareness around health and wellbeing in the workplace - and for the future of our planet. First with the archetypes of texture, and now an extension into timeless colour and structure, Essentials was designed with minimalism in mind.
The DESSO Essentials carpet tile Ccollection consists of five products product ranges in total. Please find below more information about our first launchedthese products: Jeans, Ridge, Traverse, Edges & Iconic.
DESSO Jeans
A modern style-setter, DESSO Jeans is a new carpet tile that brings depth of character in contemporary inky hues.
DESSO Ridge
DESSO Ridge is a finely structured carpet tile that brings simplicity and timeless beauty to the DESSO Essentials collection.
DESSO Traverse
Inspired by iconic Modernism, the DESSO Traverse range of carpet designs, part of the Essentials collection, features simple diagonal lines.
DESSO Edges
Edges is a new carpet tile design that expresses the genuine honesty of classic woven textile and its positive tactile feel.
DESSO Iconic
Create playful flooring in a kaleidoscope of colours with DESSO Iconic – a new addition to DESSO Essentials.