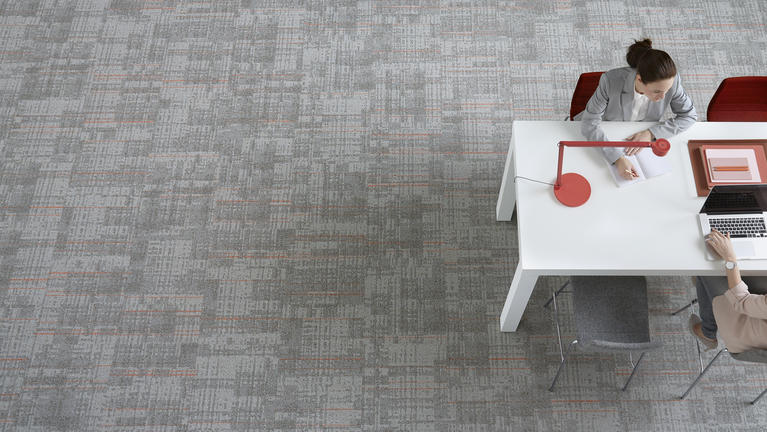 DESSO 'Make it your own' carpet tile collection
The DESSO® 'Make It Your Own' carpet tile collection is designed to inspire architects and designers to use textures, colours and material effects to tell their own unique story across the floor.
In a world of mass-production, standardisation and efficiency, it is important to recognize that interior spaces should reflect people's need to express their own identity. 
The 'Make It Your Own' collection, gives an answer to the growing demand for unique spaces with an individual atmosphere, identity and personality. The collection consists of three distinct themes:
Combining Textures: A range of different textures with the same organic look and feel that gives the choice to create individual flooring combinations
Colour Layers & Intensity: The application and layering of colours in flooring design in order to create the possibility for the user to play with colour accents for unique interior designs
Material Effects & Contrasts: Playing with effects in textile flooring highlighting the contrast between matte and sheen.

The Carpet Design Center™ also played an important part in the development of the 'Make It Your Own' collection. With the move towards individual and personalised designs, architects and designers can visit the Carpet Design Center™ and collaborate with our design team to co-create their very own personalised colour or pattern. In fact, it's a design lab and a flexible production facility all in one, where creativity is at your fingertips.
DESSO Metallic Shades
Designed to inspire designers and architects to experiment with metallic and matte effects, the DESSO Metallic Shades range can create a subtle, yet lustrous one-colour finish or be combined for added depth and contrast.
DESSO Stitch
An intricate carpet tile contrasting subtle shades with an injection of colour DESSO Stitch is specially crafted to reflect the subtle intricacies of handwoven textiles, with a brightening accent woven through each carpet tile.
DESSO Carved
A striking textured carpet tile inspired by nature, DESSO Carved is designed to combine different textures with the same organic look and feel - perfect for creating individual flooring installations.