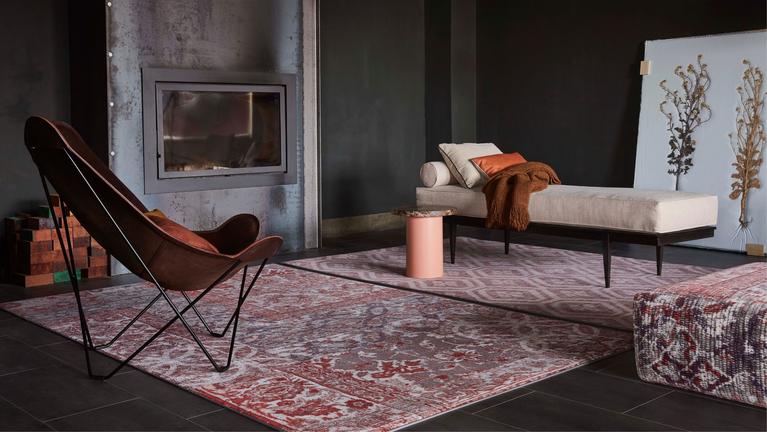 Rugs offer a great way to segment spaces in a large area or to make certain areas a little more intimate. They also build a decorative bridge between hard and resilient flooring, whilst having a positive effect on the acoustics and providing an extra sense of warmth and comfort.

With the constantly evolving design trends in the hospitality industry, you need flexible and smart solutions that add to creating unique experiences. In the workplace we also see a growing trend of bringing the comfort of home to the office.
 
Adapt to your style
Next to a large number of designs and colours the DESSO Rugs are available in a wide range of sizes and strong geometric shapes, including circles, triangles, rectangles and hexagons, so you can always create the perfect fit for your design project.
Finishing options
Blind banding
For a flawless finish, rugs can be edged with matching cotton blind bands.
Linen banding
To create a more luxurious effect, the rugs can be edged with 5 cm linen coloured bands offering a seamless finishing.
Overedging
The most traditional of the finishing options, overedging matches the rug colour to the edge. All rugs are fitted with a coordinating yarn edging as standard.
All rugs are provided with a protective anti-slip underside as a standard.
DESSO Sense of Marble
Marble is the material par excellence to express luxury in any interior. The DESSO Sense of Marble celebrates the classic look of marble, in unique combination with the warmth and comfort of soft carpeting.
DESSO&Ex
Designed in collaboration with Ex Interiors, this collection encourages playful floor themes created to highlight or contrast key elements within a space, with neutral hue offsets against a spectrum of patterns and brings to life a number of different colour groups.
DESSO Vintage
This collection compromises ton-sur-ton shades that evoke a classic, natural feel. It also has patterns in a variety of colours to create an exciting contrast, which is the perfect eye-catcher in an industrial or modern interior.
DESSO Denim
Rugged and weathered, durable and comfortable, the DESSO Denim gives a tough jeans look to any interior. Available in a variety of different structures from weathered, worn jeans look to pure indigo. Created from recycled ECONYL® yarns taken from old fishing nets recovered from the ocean.
DESSO Patterns & Shades
The blurred classic design of the Patterns create a luxurious vintage look, and can be perfectly combined with the Shades pattern which is reminiscent of weathered concrete.