Solid & Shape
DESSO & Studio Stefan Scholten
Solid & Shape carpet tile collection by DESSO & Studio Stefan Scholten is a visual exploration of various recycling techniques. The general aesthetics associated with upcycled materials is one of the turbid mixed colours and rhythms rather than sharp geometric patterns.
Inspired by the recycling process of Tarkett
The ReStart take-back and recycling programme facilitates the processing of old flooring as a raw material for new flooring. Tarkett can seperate the backing from the yarn and reuse it as backing for new DESSO carpet tiles. The yarns are reprocessed to produce new carpet yarns.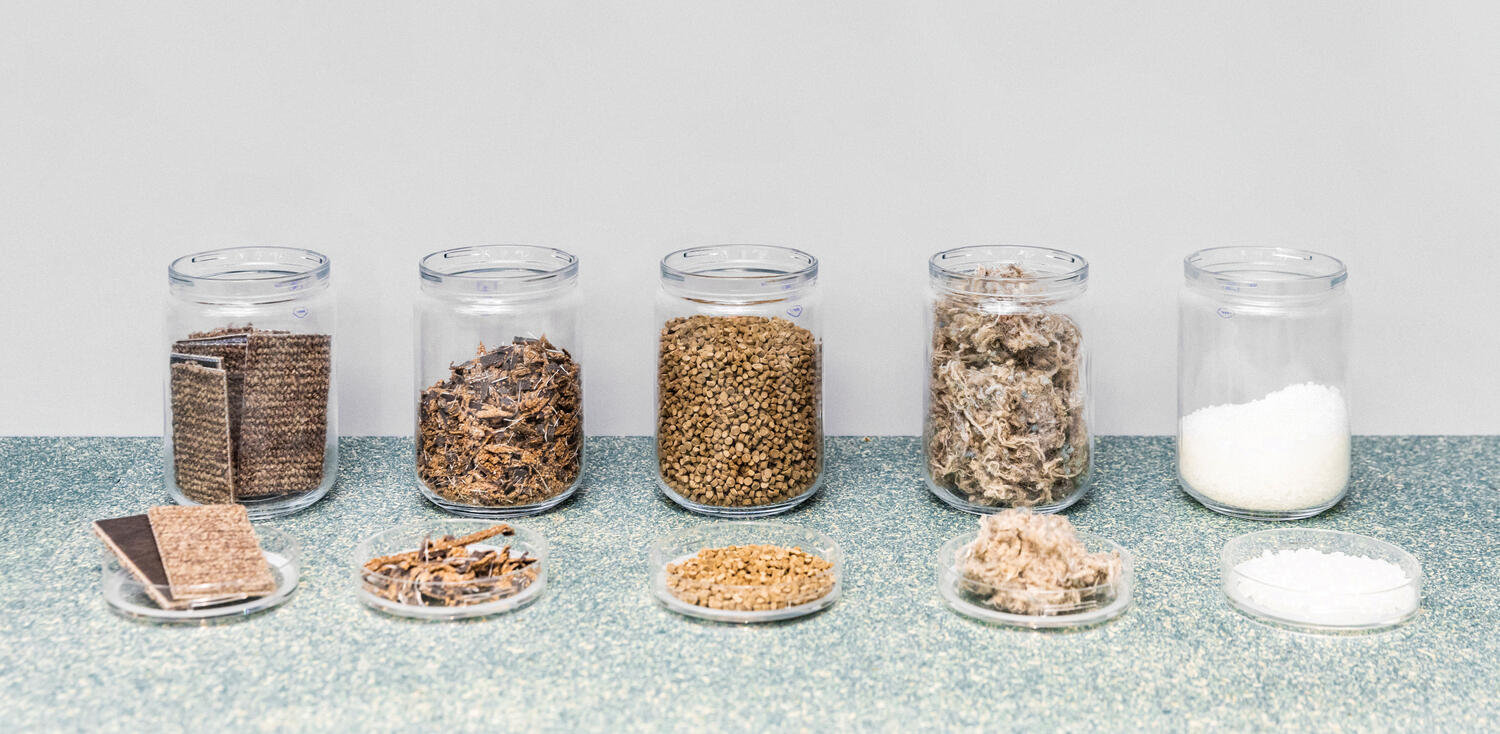 Stefan Scholten:
"Our project was based on this process. I was very pleased to have this as a starting point. How do you translate Tarkett's Cradle to Cradle philosophy into a collection that visibly and tangibly reflects it? We wanted the carpet tiles themselves to reflect the fact that they are the result of upcycling, the clever processing of yarn waste."

"We wanted to play with blends of rough and smooth yarns and various pile heights, creating a raw and refined look at the same time. The definitive series was preceded by an intensive form research. In the end, a collection with two appearances emerged: Solid and Shape. Two designs, with eight colours each. By combining the qualities of Solid and Shape, the possibility of variation increases."
The Solid and Shape collection
The Solid and Shape collection was made to be remade. A truly circular collection. Our closed-loop system ensures that the Solid and Shape carpet tiles have the lowest circular carbon footprint* in Europe - one that is at least 6 times lower** than the total carbon footprint of our competitors. The combination of Solid and Shape offers the possibility of working with zones.
Solid is a study of yarn combinations and colour combinations inspired by yarn fibres from the recycling process.
Starting with the same process as for Solid – cutting yarn fibres, taking them apart and reconstituting them – Studio Stefan Scholten has created a pattern based on organic shapes.
Over the past twenty years, Stefan Scholten has become one of the defining voices in world-renowned Dutch design. The prestigious design magazine Wallpaper* recently voted his work 'Best Design of the Year'. He has managed his own design agency since 1995. The Amsterdam-based studio designs for a variety of well-respected brands, such as HAY, Paola Lenti, City of Amsterdam, DESSO, Maharam, Kvadrat and Gelderland.
The matching colour palette of Solid and Shape allows you to make an appropiate and expressive statement on workplace floors.
Discover how carpet recycling is done at Tarkett's Carpet recycling facility in Waalwijk and how we move towards a more Circular economy.
You can be part of our journey towards a more circular economy by joining our ReStart® programme.
* For EcoBase-backed carpet tiles with PA6 yarn, according to the Environmental Product Declaration (EPD) S-P-05827 externally verified by Bureau Veritas, based on the total carbon footprint (Modules A-D) with a closed loop circular recycling scenario.
** Comparison of EPD S-P-05827 with the total carbon footprint (Module A-D) of each of the 19 carpet tiles' EPDs available on internet (May 2022) for competitors with production location in the EU+UK, in the product weight range 600-699gr, Polyamide yarn and incineration as end-of-life scenario.