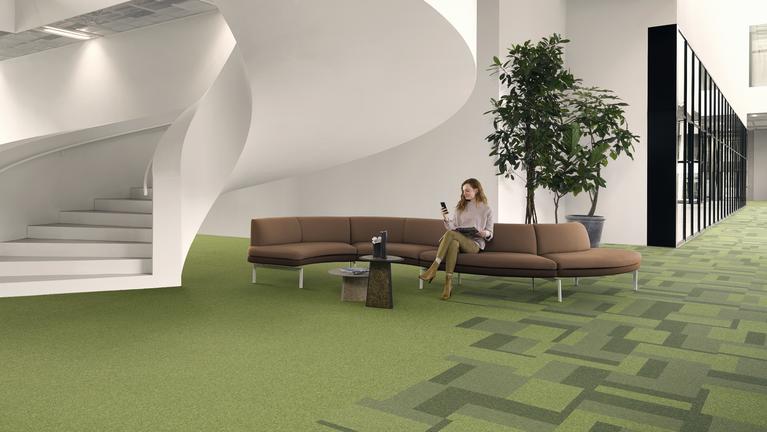 DESSO Stratos & DESSO Stratos Blocks
Tarkett's ever popular DESSOⓇ Stratos collection has long delivered specifiers practicality, affordability and style. To retain its status as one of the flooring industry's most celebrated products for delivering on form and function at an exceptional price point, Stratos and Stratos Blocks have been reimagined with even more creative freedom and improved environmental responsibility in-mind.
Playful Colour Palette
Stratos presents 24 carefully selected design options. Seven of the original colours sit alongside a suite of warm and cool neutrals and 12 statement accents. With flashes of bright yellow, pink, orange, teal, aqua and aubergine now in the mix, architects and designers can tap into a playful palette that is easily and effectively combined with an expanded six Stratos Blocks for stand-out commercial settings that meet every end-user need.
Our Sustainability Commitment
In keeping with our sustainability commitment and wish to protect our beautiful planet, the Stratos and Stratos Block collections are Cradle to Cradle® Silver Level certified. The products include our 100% recyclable EcoBase™ backing, containing a minimum of 75% recycled chalk* from the local drinking water industry.
*Lloyd's Register assured as 100% pre-consumer recycled material.
Closing the Loop
In addition, they are made with ECONYL®, a 100% a regenerated nylon yarn made from recovered waste materials such as discarded fishing nets and carpet yarn from our own Carpet Recycling Center. With our eco-conscious production processes and recovered materials, we aim to create healthier spaces with sustainable flooring that benefits both people and the environment.