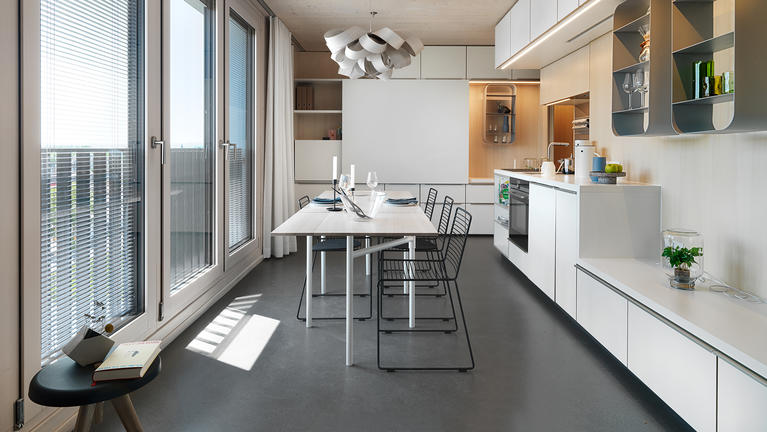 Holz Hybrid Hochhaus Skaio
2019 | Heilbronn, Germany
A hybrid high-rise building SKAIO, a hybrid high-rise building made of wood, steel and reinforced concrete, is a prime example of a successful combination of modern architecture, maximum functionality and eco-friendly construction.
The owner of this innovative wooden high-rise building is Stadtsiedlung Heilbronn GmbH. Together with ZÜBLIN, the new building was completed in March 2019, after a construction period of approximately 15 months. The architectural design was overseen by Kaden + Lager, an architecture firm from Berlin, which has dedicated itself to inner-city and multistory wood construction. SKAIO totals an area of around 5,000 square meters, with 60 half publicly subsidized residential units (3,300 square meters) and a commercial space (137 square meters) on the ground floor. The Style Emme xf2 linoleum collection was used for most of the floor space.
 
"At the request of the developer, the wooden high-rise building was planned according to the Cradle to Cradle certification" explains Tabea Huth, project manager at Kaden + Lager.
In August, the residential building received the gold DGNB certificate for meeting numerous sustainability criteria, as well as the Diamond award for its outstanding design and architectural quality.
About
Tarkett Style Emme xf2 linoleum collection was used for the majority of the flooring allowing the hybrid building to obtain the gold DGNB certificate for sustainability
Designer/ Architect
Architekturbüro Kaden + Lager Berlin
Building owner
Kommunaler Wohnungsbau Stadtsiedlung Heilbronn GmbH