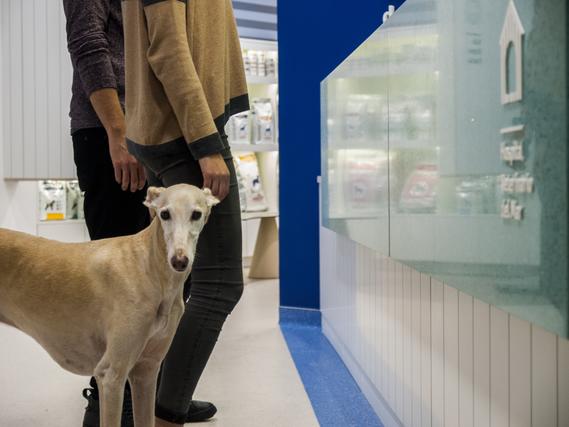 Hospital Veterinario del Mar
2020 | Castellon, Spain
The Veterinario del Mar Hospital is a 24-hour centre specializing in comprehensive veterinary care.
This 30-year-old business, was looking to expand its facilities, as well as renew the brand and its position in the market. The objective was to be a business that is different from the competition by promoting family, protection and nature. The main challenge was to find a way to create a fluid space that covers the 420 square meters of the premises which caters to the diverse range of medical services provided by the centre.
The Vitale architecture studio led the interior design project. One of their goals was to make sure that the animal owners and their pets could comfortably connect with each of the spaces. For example, the reception area separates the canine and feline areas, preventing cats from coming into contact with dogs. Additionally, the colours used—blue, sea water and sand—were chosen, because they have a calming effect and they evoke health and nature.
Tarkett's Primo Premium collection was selected for this project. This vinyl flooring can be mounted onto walls, which is especially interesting for hospital areas where hygiene is essential.
The result is a project that meets the communication objectives and the corporate philosophy of the business – improving the customer and pet experience while promoting well-being, calmness and comfort.
Making conscious choices. For people and planet.
Tarkett Human-Conscious DesignTM.
About
Discover the new Veterinario del Mar Hospital, a centre specializing in comprehensive veterinary care, designed with our Tarkett's Primo Premium range.
Designer/ Architect
Vitale Architecture Studio