Our commitments to people and planet
Tarkett Human-Conscious Design®

Tarkett Human-Conscious Design® is our pledge to stand with present and future generations. To create flooring and sports surfaces that are good for people and the planet. And to do it every day. It's a holistic way of doing business, capable of marrying the specific expectations of each of our customers with the profound challenges of protecting our planet. Working together with our partners, we deliver safer and healthier spaces in which people can reach their full potential. For over 140 years, we have proudly been undertaking this commitment. We launched our first recycling-focused circular economy initiative in 1957, have raised indoor air quality standards for more than a decade, and excel in researching and designing solutions for diverse environments. We hold people and the planet at the heart of our operations – and we're dedicated to proving it, day after day in line with our three commitments:
Deep human understanding
Conscious choices. For people and planet
With you. Every step of the way
Deep human understanding
To positively impact today's and future generations
Conscious choices. For people and planet.
When it comes to people and planet, we don't consider one without the other.
With you. Every step of the way.
Quality, trust and dependability define our approach.
Deep human understanding.
To positively impact not only people's daily lives but also the generations to come, we have to start with a profound understanding of people – those who create with our products, those who rely on them and those who care for them. Leveraging the power of deep human understanding, we continuously engage with our customers to ensure that we respond to their specific needs and expectations.
Through initiatives such as our Circles of Architects network and our in-depth research into people living with dementia, we aim to better understand and meet our customers' needs and goals to shape a better customer experience.
Conscious choices. For people and planet.
The pursuit of 'always more' is pushing our limits and threatening our planet. The game must change. We need to find a way to deliver more with less. For us, this means less waste, lower emissions, greater well-being and more proof.
Less can work. This is why we are committed to:
Less waste and lower emissions to tackle climate change and create a circular economy. We are the first flooring manufacturer to pioneer closed loop, post-use recycling for vinyl*, carpet tiles and linoleum floorings. By 2030, at least 30% of our raw materials will come from recycled materials and all emissions throughout our entire value chain will be reduced by 30%.
Providing proof and only using good materials. We establish ambitious sustainability goals and seek third-party accreditation from scientific institutions and government bodies to measure our progress and we offer radical transparency about our products and the good materials we use.
Contributing to a greater wellbeing and exceeding indoor air quality standards. Lowering our environmental impact will never mean compromising our products' quality or your comfort, health and overall well-being. We eco-design flooring that contributes to better indoor air quality, keeps noise levels low and is a pleasure to walk on.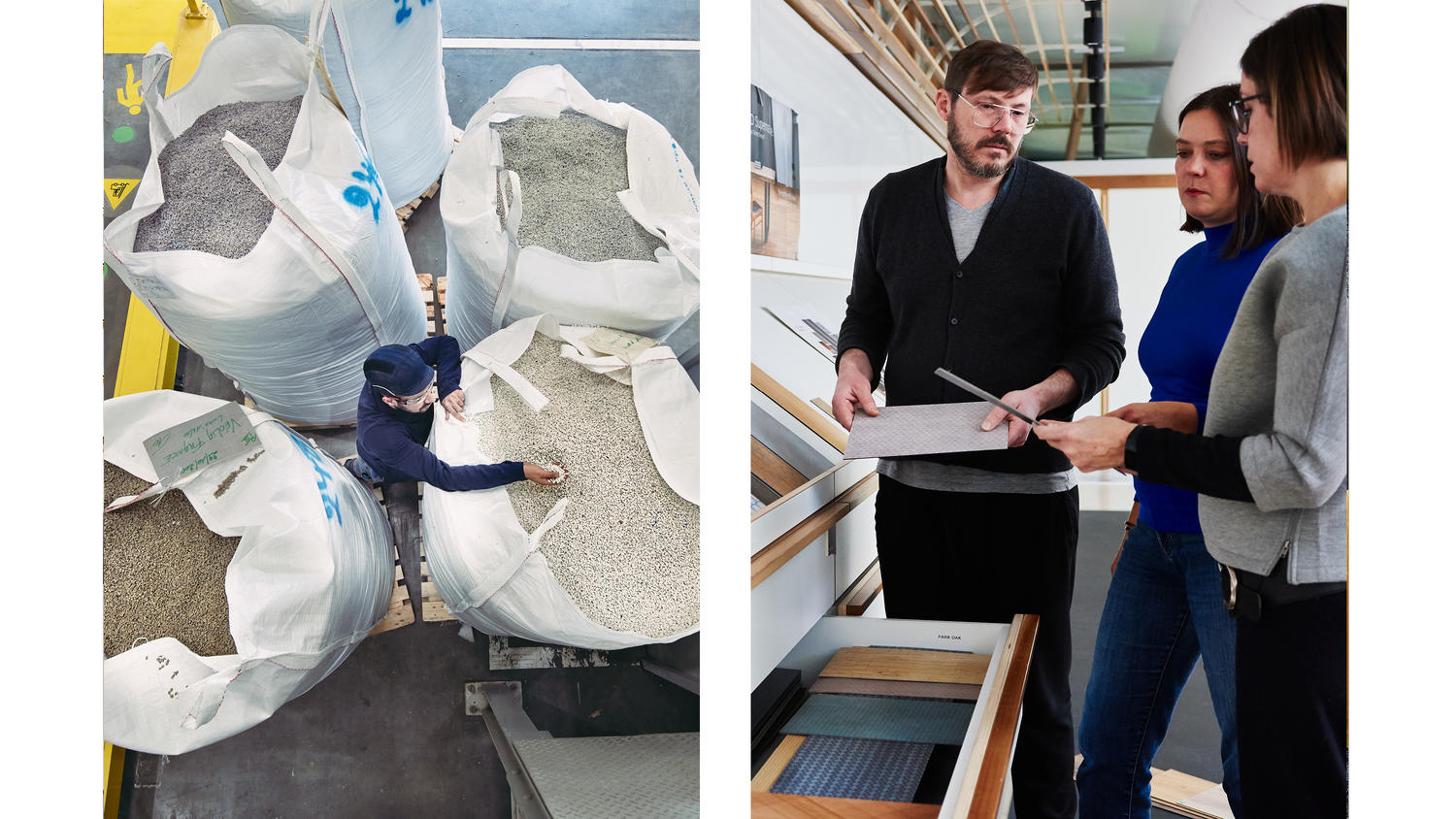 With you. Every step of the way
Quality, trust and dependability define our approach. As we commit to the flawless execution of each and every space, we work closely with our commercial and residential partners at all stages of planning, use and recycling. And with local services tailored to diverse clients and communities, we commit to connecting – all the way.
The way to better floors.