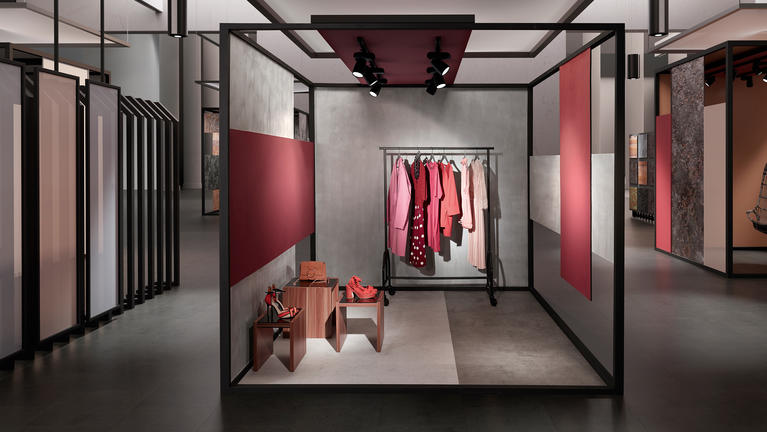 iD Click Ultimate grows stronger
iD Click Ultimate reinvents itself with 21 new designs, 5 new formats, a higher resistance to static and heavy loads and the same mission to offer you the most advanced rigid vinyl flooring solution. With iD Click Ultimate you can deliver perfect installations in a minimum time, and easily meet the needs of all your clients, even the most demanding ones.
High traffic-proof
Ideal to cover large spaces and withstand high traffic, iD Click Ultimate's RCC technology has the highest density on the market (2000Kg/m3), making it the most resistant to sustain indentation, wear, static and rolling heavy loads up to 800kg*. The extremely resistant Ultimate PUR surface treatment simplifies cleaning and
maintenance.

*800 kg refers to our 0.70 wear layer references.
Our 0.55 wear layer designs can bear up to 500kg static and rolling heavy loads.
Installation and renovation-proof
iD Click Ultimate easy lay vinyl floor tiles reduce business downtime to a strict minimum. The new I4F® Click4U Click technology enables an installation without the need of subfloor preparation*, gluing or drying.
Also, iD Click Ultimate can be placed directly over ceramic tiles and most existing subfloors, making this collection your best asset for all your renovation and installation projects, even for high traffic areas.
* Each project is unique, check our installation notice for more details.
Noise-proof
iD Click Ultimate still has the same mission to offer your clients the ultimate sound block technology. Its exclusive acoustic backing enables a sound absorption up to 19 dB and ensures the lowest in-room walking noise compared to any other hard floor solution.