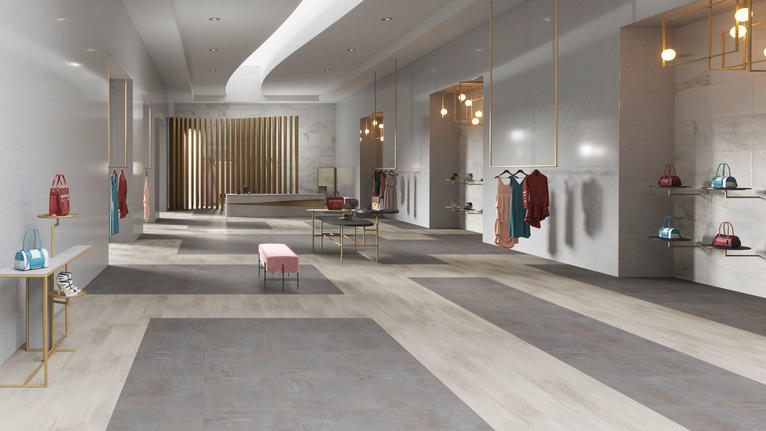 iD Inspiration Loose-Lay, the easy-lay vinyl floor tiles
Easy-lay flooring technology
Inspired by industrial security flooring, iD Inspiration Loose-Lay vinyl flooring's exclusive antiskid backing ensures an enhanced adherence to the subfloor. The patented herringbone pattern prevents the floor from sliding, allowing for an easy installation that requires no adhesive*.
*For long standing worry-free installation, we recommend tackifier for areas larger than 16m².
Extremely fast installation
Ideal for fast renovation, this loose lay vinyl flooring collection requires limited subfloor preparation. Thanks to the product's thickness and the anti-skid backing, bridging slight subfloor unevenness is possible. 3 times* quicker than a glue-down LVT and 1.5 times* quicker than a traditional LVT Click, iD Inspiration Loose-Lay can be installed overnight, reducing business downtime.
*Estimation based on Tarkett's internal tests.
Practicality at its best
Easy to install and just as easy to remove, without damaging the substrate, iD Inspiration loose-lay provides effortless access to the technical subfloor and demands little maintenance over time. Highly resistant and durable, iD Inspiration Loose-Lay is treated with the Tarkett TopClean XP™ coating, extending its life-cycle and making it easier to clean.
Fashionable luxury vinyl tile flooring designs
iD Inspiration Loose-Lay designs display three major themes including premium wood, minerals and creative designs that use a high definition printing technology. All 36 designs can be mixed together to carry out elegant, creative projects and bring unexpected style to your floor. You can surely find the combination that best suits your expectations.