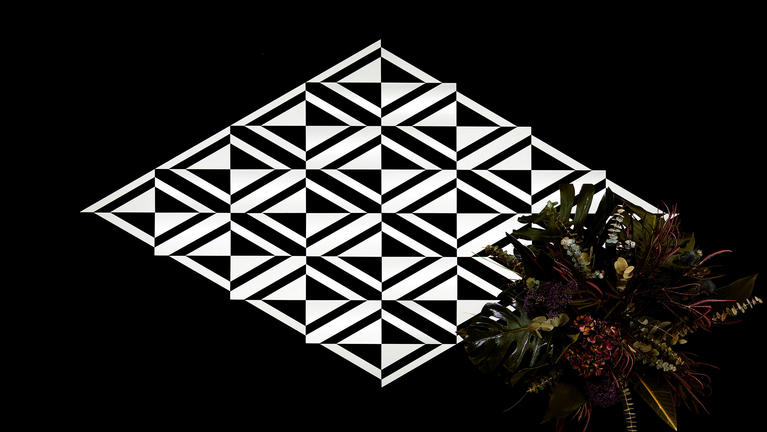 iD Mixonomi Jewels, designed to captivate
Inspired by diamond cutting techniques, iD Mixonomi Jewels pushes iD Mixonomi to its utmost potential by calling upon our Floorcraft cutting and assembling service. Tarkett entrusted the design of this collection to the talented designer Aurélia Paoli, founder of Beauregard Studio, Paris.
Diamonds are forever
This precious stone, graciously cut, is embodied in every format of our iD Mixonomi Jewels collection. The layouts intertwine to highlight the captivating geometric shapes of a diamond. iD Mixonomi Jewels can be used as a highlight accessory in an iD Mixonomi layout, as a key component in an all-over fashion, or to create a stylish touch through center pieces or room borders. iD Mixonomi Jewels dazzling colour palette has it all from punchy pastels to pretty neutrals. You can adopt some eye-catching hues with our bold, vibrant technicolors or add a little shine to your design by using one of our 3 Metallics.
Floorcraft Sonic-Cut Service for bespoke floors
iD Mixonomi Jewels is a Floorcraft collection. The iD Mixonomi Luxury vinyl tile flooring is cut with our sonic machines into iD Mixonomi Jewels shapes. Every iD Mixonomi Jewels shape is made up of several pre-cut elements. Each element can showcase a different colour, so make the most of the plethora of colour combinations! Our Floorcraft team partners with you to create a bold, creative and captivating custom designed flooring tailored to your project's requirements.
Meet Aurélia Paoli, Beauregard Studio
Aurélia Paoli founded Beauregard Studio in 2012. As a perfectionist, she rapidly built a strong identity for her studio through premium modular and bespoke creations. Aurélia's cooperation with Tarkett was initiated in 2018 to create a new collection that bridges the heritage of craftsmanship and the innovation of our iD Mixonomi flooring.

The Beauregard studio imagined 12 shapes and 5 colour harmonies. You may find inspiration through these suggested themes or create your own colour expression with our 34 colours.