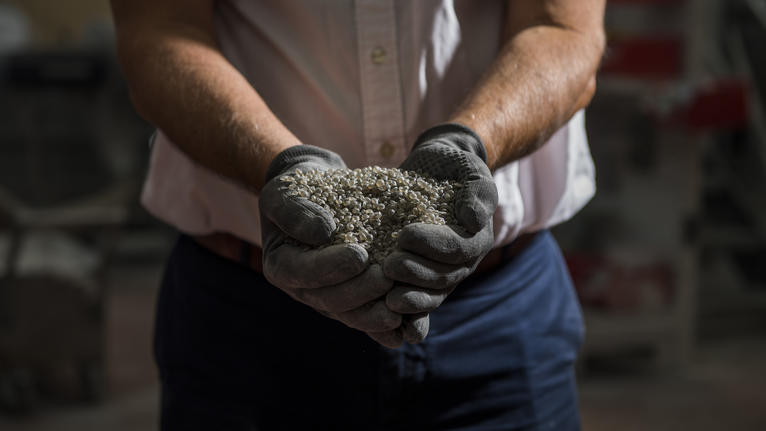 iD Revolution, certified Cradle to Cradle® Gold for Sustainable Product Design
iD Revolution is the first Cradle to Cradle® Gold Certified Modular resilient floor and a good example of Sustainable Product Design. Watch our video to hear the story behind this ground-breaking innovation:
What is Circular Economy?
Circular Economy, as opposed to linear economy ("take, make and dispose") is a regenerative system that is an alternative in which resources are kept in use for as long as possible before being recovered or regenerated at the end of the product's life. In the circular economy, there is no waste, only nutrients.
What is Cradle to Cradle®?
The Cradle to Cradle® design philosophy requires designers and manufacturers to create products that are regenerative by design and producedin ways that respect the environment. C2C-certified products are designed from the outset to be reusable, or recyclable with zero waste. Continuous progress is required across all five categories to guarantee Sustainable Product Design: material health, material reutilisation, renewable energy, water stewardship and social fairness.
iD Revolution complies with all 5 categories:
Material Health: Tarkett has achieved C2C's Gold certification for iD Revolution modular resilient floors, with Platinum level for material health, which is the highest level of assessment.
Water Stewardship: Water use is evaluated throughout the supply chain, and 99% of the water used in the production process is recycled in closed loop.
Material Reutilisation: iD Revolution contains 83% of rapidly renewable, bio-based, recycled materials and abundant minerals, not contributing to resource scarcity. It is 100% recyclable. Tarkett is also collaborating with partners to accelerate the transition towards a Circular Economy and help achieve the UN's sustainable development goals.
Tarkett partnered with one of the only existing companies recycling PVB to source this material, a resin used to help prevent windscreens from shattering. It is recovered from end-of-life vehicles or safety glass from buildings, then integrated in to the product formula.
Renewable Energy: 50% of electricity needs are derived from renewable sources, while the entire manufacturing process is optimised to save energy. The other 50% are offset and come from carbon credits obtained through the support of a biodiversity project in the Peruvian Amazon. By 2019, iD Revolution will be produced using 100% renewable energy.
Social Fairness: We seek to respect and protect everyone who contributes to making this product.