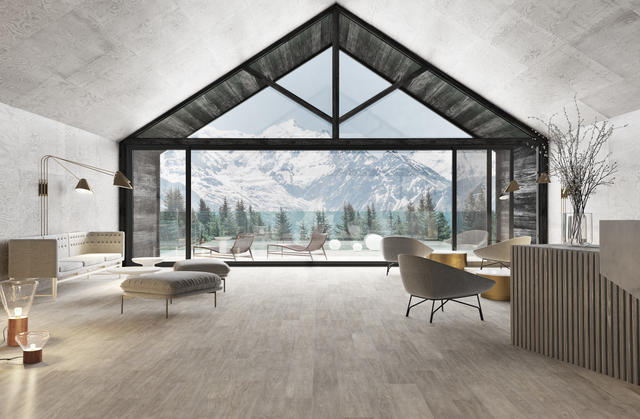 iD Revolution, the eco-friendly Cradle to Cradle® Gold certified floor tiles
The new eco flooring innovation
iD Revolution is a major innovation in modular resilient flooring made from innovative recycled and abundant raw materials. It is the result of Tarkett's proven expertise in materials and experience of developing sustainable, innovative solutions. A Made in Europe non-PVC product and the first Cradle to Cradle® Gold certified modular resilient sustainable tile flooring made with recycled materials. It is highly respectful of the environment in its manufacturing process and made from more than 80% of recycled or bio-based materials including bio-plastics, recycled PVB and abundant minerals.
An easy-maintenance and durable sustainable floor
iD Revolution makes no compromise on resistance and durability. Indeed, this modular eco flooring uses natural fillers, recycled and bio-based materials and is still as resistant as Tarkett's other modular resilient flooring collections. iD Revolution is treated with our TopClean XP™ surface protection which allows for easy maintenance and extra resistance to scuffs, scratches and stains.
Eco-friendly floor tiles with Wood and Stone decors
iD Revolution sustainable tile flooring comes in 12 wood and stone decors to create spaces that are aesthetic on top of being functional and good for people and the planet.