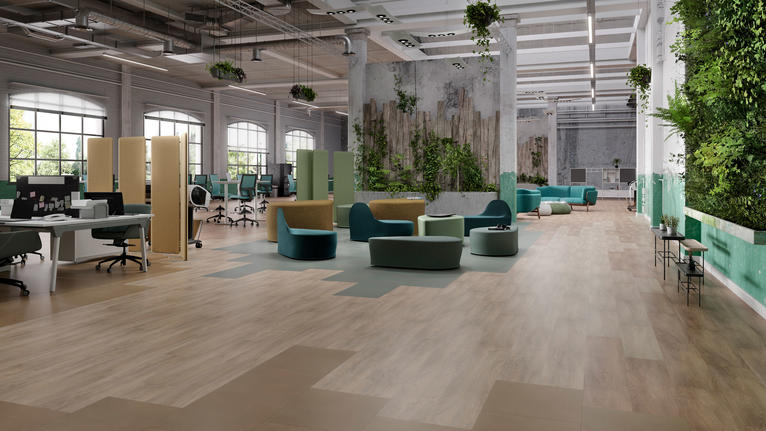 iD Square, tailored for the ideal work life
In a fast-paced, ever-changing world, the workplace and the hospitality industry of today are constantly shifting. Companies need to engage their employees by providing vibrant spaces for better creativity and effective collaboration and hotels need to best address their guests' expectations and deliver exceptional customer experience. Committed to staying on the leading edge of trends in both segments, Tarkett has designed iD Square, an acoustic loose-lay collection tailored to the specific needs of these markets where fast renovation, acoustic comfort and resistance are paramount.
FLEXIBLE WORKSPACE
By 2020, Generation Y or `Millennials' and Generation Z will comprise more than half of the workforce.

They are digital natives, collaborative, adept at multitasking and their attitudes and expectations will have a major impact on the work environment. They expect a genuinely agile work ecosystem, with good internet access, where they can work from basically anywhere - co-working spaces, hotel lobbies, unassigned seating areas, individual work spaces or unconventional work spaces ranging from corridors to cafes or hotel restaurants. For iD Square, Tarkett designers have come up with several exciting and unusual colour and texture combinations that have been adapted for each concept area.
COLLABORATIVE WORKSPACE
Initially, shared office spaces were typically related to start-ups. This trend has majorly spread over the years to break into almost every organization seeking to stimulate open collective thinking, innovation, and fresh perspectives! From wide open-plan offices that are modular and easily adaptable, to fragmented open concepts where areas are clearly delineated, open spaces naturally allow employees to interact frequently with each other and make the workspace more agile.
When creating iD Square, our design team has sought to inject bright and modern materials and textures into these spaces to emanate an appealing and inspired feel.
CARING WORKSPACE
Today's forward-thinking companies, which advocate employee-centric culture, strive to foster workplace wellbeing and to encourage work-life balance. In an effort to achieve high levels of employee-wellbeing, healthy materials and innovative furniture such as adjustable workstations or standing desks positively contribute to increased worker productivity and improved overall health.
When creating iD Square, Tarkett designers have combined different textures and used subtle variations in natural hues to add depth and interest to these spaces and support a Work better live better motto.
TECHNOLOGY IN HOSPITALITY
With enhanced technology entering the hospitality market, the global scene is changing faster than ever before. Online and iPad check-ins are inducing the front reception areas mutation. Thus, more front desks will be replaced with sit-down digital concierge services and other public areas will shift from business-like
spaces to warm and inviting areas. Hotels are also going big on the smart room concept to transform the hotel room experience. Our designing team aims to take part in this storytelling by offering guests a more unpredictable and personalized experience using soothing patterns with cool and warm tones enhanced with a touch of brass.
FUSION OF LUXURY VINYL TYLES AND CARPET TILES
Creativity is at the heart of good design along with the desire to make a mark. With our Fusion concept, we combine iD Square with DESSO carpet tiles, to create stunning and practical flooring for contemporary spaces. We've designed the iD Square and DESSO carpet tile products in the Fusion collection to work together seamlessly, with no transition strips.
For more inspiration and information please visit: