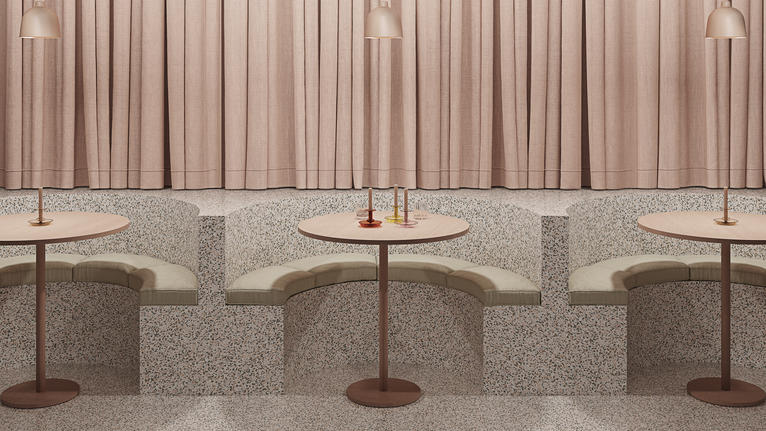 iQ Surface: Seductive Design and Exceptional Performance
Tarkett's iQ Surface Collection gives a designer the chance to make an impression that lasts a lifetime or more.
Launched during the Milan Design Week in April this year, at Tarkett's Formations installation, iQ Surface gave viewers a glimpse of just what is possible when you dare to dream. A collection comprising of 27 colours in Tarkett's high-performance, homogeneous vinyl that boasts world-leading sustainability credentials.
Created in collaboration with Note Design Studio, iQ Surface's five colour families open an endless world of inspirational ways to use one of design and architecture's most unique materials.
iQ Surface is a beautiful and durable solution suited to endless applications and projects.
iQ Surface Floors in Retail Applications
In an industry where standing out brings customers in, iQ Surface is a design material that catches the eye. With the flair of Note's signature use of colour and pattern, each one of iQ Surfaces colour ways is a striking eye-catcher. The entire collection can be blended easily and harmoniously with materials commonly deployed in today's interior architecture including stone, woods, concrete and steel.
Potential areas of application include: fitting rooms, corridors and lobbies, plus areas with acoustic backing. Feel free to use iQ Surface on non-flooring areas such as walls, architectural centrepiece installations, bar areas and social meeting points as well, for even more impact.
iQ Surface Office flooring
Workspace evolution has led us to flexible, purposeful spaces that enable us to get the job done as we want to do it.
The versatile iQ Surface range inspires architects to freely explore colour and materiality in the workspace.
iQ Surface helps architects and designers make workplaces that motivate and stimulate employees. With it you'll create environments that provide both stimulation and calm in equal measure.

Tone on tone, zonal areas, vibrant backdrops for workshop areas, communal drop-in spaces and brand identity itself are all reinforced by the creative power of iQ Surface.
iQ Surface floors in Educational facilities
Students thrive best in inspirational spaces, and educators are motivated by workspaces that bring them energy. Through intelligent application of colour and design, an architect can enrich the lives of the students and teachers who use academic spaces.
In an academic facility, Tarkett's homogeneous vinyl flooring adds more than just colour. There's its acoustic dampening qualities, which are important in any area where footfall will be high and sustained. Plus its Phthalates-free composition and super-low VOC emissions contribute to better air quality for all who use these spaces.
Post-installation and iQ Surface can be kept hygienically clean and fresh without specialist maintenance, making it economically viable even in large scale applications.
iQ Surface in Hospitals, Surgeries, Healthcare and Wellbeing Spaces
A well thought-out, intelligently-designed space has a significant impact on a patient's healing process, as well as providing economic benefits to the healthcare institution.
As one of design's most demanding environments in which to create spaces, the healthcare industry holds numerous challenges. How to keep a space functional for healthcare professionals? How to keep it hygienic and sanitised 24-hours a day, all year round? And how to use its spaces to relieve the daily stresses of its workers and its patients. The answer can be found in the 2mm thick iQ Surface collection.
It's been said that investing in design always pays off; and iQ Surface is a perfect example. Tarkett's homogeneous vinyl is virtually maintenance-free. Even in the most traffic-heavy applications, its crisp aesthetics and design can be restored with simple dry-buffing when required. Plus Tarkett's unique closed-loop production translates to levels of sustainability rarely seen in an architectural and design material.