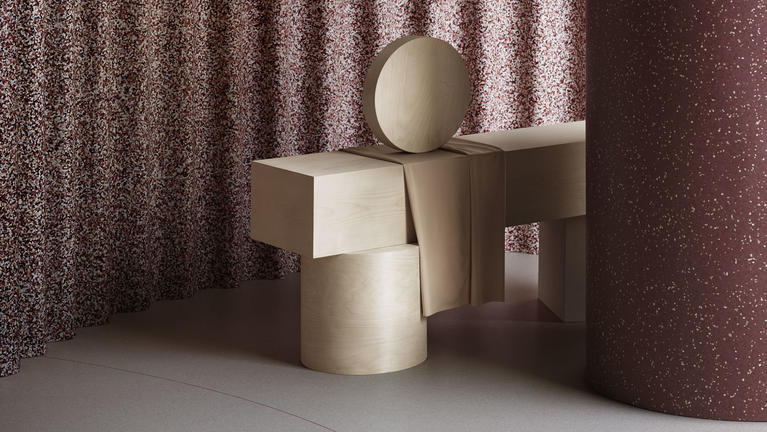 IQ vinyl floors – "Intelligent Quality" that ticks all the boxes
iQ stands for "Intelligent Quality" and is Tarkett's well-known homogeneous vinyl flooring for public spaces. The iQ range has solutions for all sorts of public environments and can be combined with special flooring in acoustic, wet room and non slip vinyl floorings and floors with static dissipative properties. It is of the highest quality and has many functional benefits such as durability, stain resistance and high flexibility that makes the floor easy to install - without sacrificing design. Thanks to their extreme versatility, iQ floors can accommodate a wide variety of applications and can be installed on floors, walls - and even furniture.
Easy and cost-effective vinyl floor cleaning
One of the things that make Tarkett's iQ flooring unique is the ability to restore the surface of the floor and appearance by dry polishing. Dry polishing on a regular basis keeps the floor surface smooth and sealed so that dirt does not penetrate the floor. Dry polishing not only removes scratches, it also causes iQ floors to be reset to their original state throughout its lifetime (20 year warranty). The requirement is that the floor should be dry polished and never use wax or polish, or any other chemicals that create a surface on the floor. Watch the video for more details on the maintenance of iQ floors.
 
A unique protection for even more durability
iQ floors have a PUR surface layer that sets a new standard for durability and stain resistance. It provides the market's best protection against scratches and stains - even from chemicals used in hospitals and laboratory environments.
The market's lowest Life Cycle Cost
iQ floor's superior performance allows you to save 30% in maintenance costs with a 3-year payback period after which your investment is profitable. Since cleaning should be done with plain water and mild detergents, wax and polish are not needed, which add ups to the savings you can anticipate. Tarkett has developed a Life Cycle Cost Application (LCC) to calculate and compare cleaning and maintenance costs for a variety of flooring materials. Contact your Tarkett sales representative if you wish know more.
A sustainable flooring option
At Tarkett, we strive to make high quality, sustainable flooring to help create healthier spaces. Ronneby production facility in southern Sweden is where iQ floors are made. Sustainability has always been a natural way of working there. Perhaps it's the centuries-old Swedish sensibility towards natural resources and preservation which play a part, or it could simply be because it makes sense. ReStart® is Tarkett's programme for the collection of post-use homogeneous vinyl flooring, trimmings, offcuts and other waste from floor installations. Tarkett's advanced techniques for recycling allows waste material to be used in such a way that the performance and aesthetics of a product are unaffected by the recycled content. That is true upcycling. To enable its customers to recycle discarded vinyl floors, Tarkett is currently conducting a post-use recycling pilot project in the Nordic countries.
Homogeneous in a new light
Homogeneous vinyl floors in a new light
With a design palette that contains 12 patterns and 277 different colors - from timeless classics to those very latest trends - iQ is the perfect choice for a variety of uses. But here is yet another way iQ homogeneous vinyl flooring will surprise you: iQ floors open up endless possibilities for a designer or interior architect to make a whole new interpretation and use of this material, as shown at 2018 Stockholm Furniture Fair Installation, The Lookout or at 2019 Milan Design Week Formations installation, both made in collaboration with Note Design Studio. Two reinterpretations revealing the great creative potential of iQ collections.The beauty of Tarkett Homogeneous Vinyl is that you really can have performance and creativity.
On how to lay vinyl flooring - easily
Tarkett's iQ floors are known to be very flexible and easy to lay. iQ is wet room approved (VT floor) and it is easy to install around pipes and wipe down into the wells to ensure waterproof installation. To match iQ floors there are 4 mm multicolored and single colored welding rods in a large amount of coordinated colors. The welding rods are light weld, high joint strength and easy to keep clean.
But welding and joining vinyl flooring can go well beyond mere functionality. Indeed, welding rods can be used to create stunning design effects and contrasts, and give your vinyl floor that little touch that makes the whole difference. Get inspired with our designer ideas to use welding rods.
Infection Prevention Control
The Covid 19 crisis has underlined the importance of hand hygiene and cleaning protocols for preventing transmission of the virus. It has also highlighted how infection prevention and control (IPC) is essential in healthcare and aged-care settings to stop infections and antimicrobial resistance. In this context, choosing the right floor and wall coverings is crucial to the efficiency of cleaning routines.
Our iQ ranges of homogeneous vinyl roll are the best flooring solutions for Serious and High-Risk Areas like operating theatres and controlled environments.
• Excellent cleanability - The smooth surface ensures the highest levels of hygiene - proven by the Fraunhofer Institute
• Perfect watertightness - Unmatchable flexibility allowing perfect coving, hot welding and easy repair
• Durable joints - Outstanding seam strength (3 times above standard) preventing split joints
• High chemical resistance - Withstands the strongest disinfectants (quaternary ammonium, alcohol, bleach, hydrogen peroxide etc.)
• Comprehensive solution for floors & walls - Easy to match and heat-weld (ProtectWall and Wallgard) for a fully watertight system Our experts can provide guidance on choosing floors that offer excellent support for infection prevention and control in hospitals.