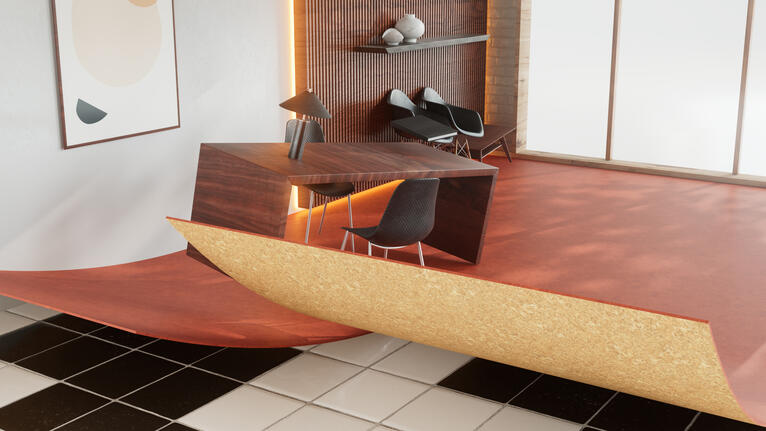 Discover the 1st linoleum for loose-lay applications. With 30 years' experience in adhesive-free loose-lay flooring technology, Tarkett offers today one of the most sustainable flooring solution. Eco-conceived, fast and easy to install without glue and still resistant to wear.
Easy Installation & Renovation
The loose-lay technology offers the possibility of a quicker installation, a perfect solution for fast renovation, reducing downtimes and impacts on building day life to a minimum. No relaxation time nor drying time needed giving more flexibility for on site planning. Also the indoor air pollution risk is decreased and glue odours are avoided. It even provides an easy access to the subfloor and is eventually easily dismountable (ideal for take-back and recycling).
Tarkett Lino Loose-Lay is perfect for all demanding areas. Versatile, it can be installed on damp subfloors, even wet areas. It will meet the needs of the most demanding environments, such as Education or Healthcare, that require maximum durability and resistance, both offered by the proven lifelong durability of Tarkett Lino xf². Last but not least, Tarkett Lino Loose-Lay cares for end users and will bring great acoustic comfort -up to 14 dB.
Tarkett Lino Loose-Lay is made from the best materials, natural, bio-based, phthalate and plasticizer free. Entirely produced along the circular economy principles, it is fully recyclable after use. It perfectly supports most green building labels. Tarkett Lino Loose-Lay leads the way to better floors.
Explore Tarkett Lino Loose-Lay collection
Tarkett lino is a versatile flooring solution made from 97% natural ingredients and manufactured at our Narni site in Italy. It offers a range of traditional marble to subtle modern patterns, with a palette of natural tones and contemporary colours. Our linoleum is sustainable and environmentally friendly, with 100% of our ingredients positively assessed according to the Cradle to Cradle® eco-design framework. It is treated with our unique xf² surface protection for extreme durability, easy cleaning and cost-effective maintenance.