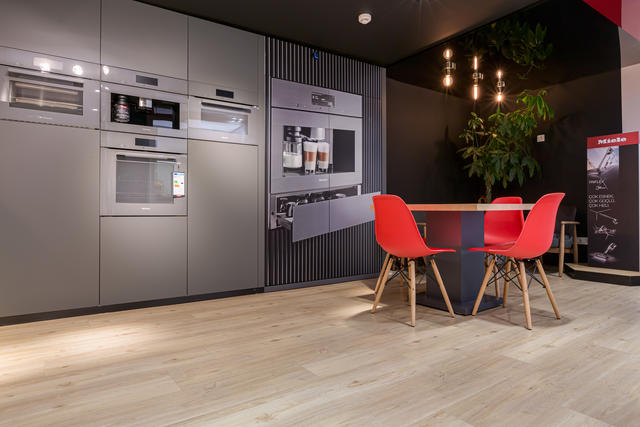 Miele Store
2020 | Izmir, Turkey
Photos: Selçuk ÇINAR
It is indisputable how important it is for a retail business to stand out. From small boutique stores to large chain stores, building a strong brand image plays an important role in attracting customers to a store. The choice of flooring – texture, shape and color — can help mold that image and enrich client satisfaction.
Miele, a world brand that carries out sales and marketing activities for high-end domestic appliances and industrial equipment over five continents, chose to work with Tarkett when choosing to cover 200 square meters of its floors at the Alsancak branch. iD Inspiration 55 was chosen because it offers endless format and design combinations that contribute to a positive brand image and customer experience.  
Furthermore, the maintenance of the floors has been made much easier with the iD Inspiration 55 collection, since it is treated with Tarkett's signature Top Clean surface protection treatment for extra resistance against scuffs, scratches and stains.
Necessary features for boutique store floors
Endless design possibilities

Easy cleaning and maintenance

Easy and fast renovation
About
Our luxury vinyl tile, iD Inspiration 55, was installed at the Miele Store in Turkey, a high-end domestic appliances and industrial equipment manufacturer
Building owner
Arde Construction