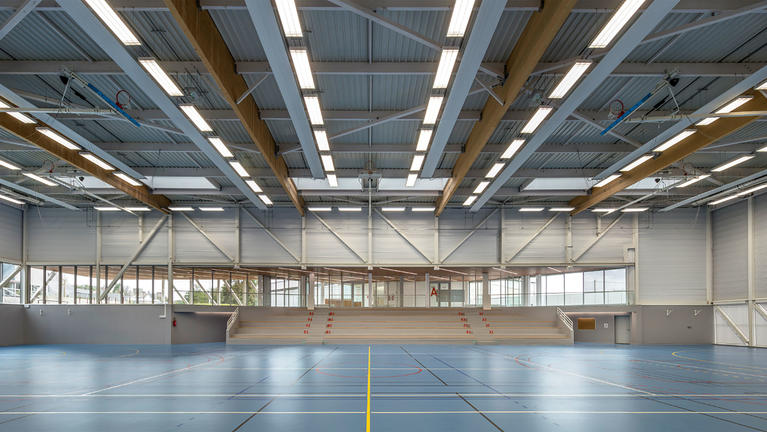 Omnisports collection renewal: Now better than ever!
Omnisports provides ideal innovative floorings for athletes of all ages and children. For them, performance and pleasure should be their only concern. Omnisports is proud to announce the extending of its existing range with the addition of the two new collections: Multi-Sports and Multi-Use in order to provide even better adapted and innovative floorings.

The new Dancefloor collection is a further novelty, designed to provide an optimal performance solution for classic ballet dancing, reducing the risk of injury.

With these new additions Omnisports is the ideal comprehensive indoor sports collection for your sports space, whether it be for team or individual sports practice, classical ballet dancing or extra sports requirements such as exams, elections, balls etc. Omnisports floorings continue to meet the highest environmental standards, allowing sports to be played in performance enhancing surroundings which contribute to lung protection thanks to extremely low VOC emissions and 100% phthalate free technology. Most collections are available in 24 colour options.
A high performance solution for multi sports
Choose the right product for your facility, from practice in schools to competition level. Omnisports guarantees enhanced sports performance thanks to good energy return and an adequate & consistent level of ball bounce for handball, basketball, volleyball and other sports as well as a better grip for control when sliding. This reduces overall fatigue throughout sports practice. Omnisports also provides a versatile flooring solution that allows for accommodating non-sporting events while providing ideal performance for sports practice.

Tarkett's range of point elastic sports flooring is designed to adapt to the needs of all athletes from leisure to high level performance requirements.
Recommended floors for different needs
The new Omnisports Reference Multi-Use 6,1mm is the ideal flooring for basketball, volleyball, and many other sports, while at the same time easily accommodating non-sporting events.
High shock absorption (P1 level superior or equal to 25%)

Exceptional resistance to indentation (inferior or equal to 0.1MM)

Superior resistance to heavy rolling loads (trolleys…)

Available with GreenLay unique 98% adhesive-free installation method
The new Omnisports Active 7, 1 mm is the affordable multi-sports solution for the practice of team and individual sports such as volley-ball, handball, badminton, basketball, futsal, tai chi, and gymnastics in schools.
Good shock absorption level (28%, average measured value)
Uniformly reactive surface for consistent ball bounce.
Good underfoot comfort.
Resistance to stains and scratches: 0,70mm PU reinforced wearlayer.
Available with GreenLay unique 98% adhesive-free installation.
Dancefloor 3, 45 mm is also a new option that is an optimal solution for dance studios catering to professional and amateur classic ballet dancers.
Excellent grip
Reduced risk of injury
Increased performance
Available in 2 colors: grey and black
Omnsiports cares about Indoor Air Quality
Omnisports sports floors care about Indoor Air Quality. They contribute to create healthier spaces for players. The floors contribute to lung protection thanks to extremely low VOC emissions:
Omnisports contains no phthalates: In 2009, Tarkett launched the first vinyl flooring range with phthalate free technology, designed with renewable plasticizers which are also used in the children's toy industry.
Omnisports minimises the risk of respiratory disease thanks to extremely low VOC emissions: Indoor air quality is essential for the health of athletes and especially children who are exposed to higher risk of indoor air pollution due to immature lungs. All Tarkett Sports floors contribute to better air quality with under 10μg /m3 TVOC emissions (after 28 days) - 100 times lower than standard levels.
Omnisports reduces pollutant effect thanks to 98% adhesive free unique installation method: GreenLay® installation method is unique and convenient, improving air quality with minimum use of adhesive.
Keeping players on top of their game with the right floors
Protecting players is our first concern. Omnisports provides different levels of shock absorption, impact deflection, friction and playing characteristics adapted to the different ages, weights and skill levels of sports users.
Omnisports contributes to minimizing the risk of injury and fall impact.
Omnisports surface treatment (except Dancefloor) and homogeneously embossed surface contribute to limiting friction burn risks and provide protection with anti-slip grip on all patterns and colours.
Shock absorption levels vary according to players' weight:
- Lightweight players: Best option : Omnisports Reference Multi-Use, Active, Excel & Pureplay
- Heavyweight players: Best option: Combined elastic (Lumaflex range) or area-elastic (wood) surfaces.
Easy maintenance for a highly durable sports floor
Omnisports floorings are highly resistant, designed to provide durable surfaces and to reduce maintenance costs. The unique product construction is made with solid, heavy and dense calendared sheets that make the surface resistant to indentation ad impact. The engineered TopClean XP surface treatment allows for easier and ecological maintenance: reduced water and chemical agent consumption.
Exceptional resistance to indentation marks and rolling load
Reduced maintenance costs
Easy maintenance
Resistant to stains and scratches
A unique convenient and sustainable installation method, GreenLay
GreenLay is a sustainable loose-lay installation method – only 2% of the surface is glued - offering an economical and easy installation solution. This unique method is made possible by:
The product's exceptional dimension stability (0.10%)
The honeycomb backing, creating a suction effect

The installation method is EN 14904 compliant and offers a 10-year warranty. More than 2 million m2 have been installed over 20 years. GreenLay also offers easy access to the subfloor after the installation with no damage to the subfloor. The installation time is reduced by 20% with Greenlay - compared to a classic installation - and offers up to 10% resistance to rising moisture.