Tarkett has the highest number of Cradle to Cradle certifications, covering multiple product categories, with 31 Cradle to Cradle certifications. More than 2,700 ingredients have been assessed according to Cradle to Cradle Criteria.
CRADLE TO CRADLE CERTIFICATES
Since 2009, the Tarkett Group has been engaged in an ambitious sustainability strategy that aims to be beneficial to the environment as well as designing products that contribute to people's well-being. According to Cradle to Cradle® and circular economy principles, products should serve as ingredients in new manufacturing processes or as nutrients in the biological cycle at the end of use.
The Cradle to Cradle® certification is based on 5 criteria:
- material health,
- material reutilization,
- renewable energy and carbon management,
- water stewardship,
- social fairness.
The certification looks at the chemical ingredients used in the product formulation. It assesses the effects on human health and the environment, considering the risk of exposure on the flooring application as well as their ability to be recycled/composted. Cradle to Cradle® helps Tarkett on the continuous optimization of its products and the certification system allows to identify the opportunities of improvement.
Tarkett is a pioneer in sustainable design and now has several products that are Cradle to Cradle® Bronze, Silver or even Gold certified. Tarkett offers certified products in almost all product categories, from heterogeneous resilient floorings to wood floorings, including linoleum, carpet and homogeneous floorings. Even non-certified products are assessed according to the Cradle to Cradle methodology regarding material, environmental and human health.
WOOD: CRADLE TO CRADLE® SILVER CERTIFICATION
Tarkett has been awarded with the Cradle to Cradle® Silver Certificate for its multilayer parquet flooring ranges Epoque, Tango, Salsa, Rumba and Professional manufactured in Sweden and in Poland. Tarkett is the first wood flooring producer in Europe with Cradle To Cradle® certified products.
The Cradle to Cradle certification evaluates criteria such as content, material reuse and environmentally responsible production in areas such as energy generation and water stewardship. In terms of energy and water criteria, Tarkett's performance was evaluated at gold level.
LINOLEUM: CRADLE TO CRADLE® BRONZE, SILVER AND GOLD CERTIFICATION
Tarkett's linoleum is the world's first to be Cradle to Cradle® certified for its sustainable approach. Made from natural materials such as linseed oil, pine resin, jute, wood and cork flour, and 100% recyclable, linoleum is the ultimate natural and renewable product. The compact linoleum range was Cradle to Cradle® Silver certified in 2011 and have kept the silver level until today, meaning that all ingredients used to manufacture linoleum floorings were identified and positively assessed.
In order to achieve this certification the manufacturing process has to meet several requirements, energy and water use had to be characterized and measures were taken to follow water stewardship guidelines set by Cradle to Cradle®. Regarding Narni, Italy, the linoleum manufacturing site, a closed-loop installation was set up in order to reuse the water used in the cooling process and a commitment to increase the share of renewable energy was taken as well as the CO2 emissions were offset Following Tarkett's commitment to sustainability and eco-design the linoleum floorings lines now also offer Cradle to Cradle® Bronze level certified acoustic products and Gold level certified products for Veneto Essenza 100% linen and for the new Originale Essenza collections.
The latest innovation in the linoleum range is the LinoWall, the first and only approved linoleum wall covering, which is Cradle to Cradle® Silver certified.
IQ ONE: CRADLE TO CRADLE® GOLD CERTIFICATION
iQ One is the new generation of homogeneous non-PVC flooring and is perfectly balanced between aesthetics, flexibility and strength. iQ One benefits from a unique formula of homogeneous thermoplastic flooring, without PVC nor plasticizers, and provides the same unique benefits that have made iQ a recognized name for decades. It is ideal for high-traffic areas with specific requirements such as public areas, education and healthcare facilities. Its outstanding flexibility eases installation and coving. It is the world's first Cradle to Cradle® Gold certified homogeneous flooring, confirming Tarkett's pioneer role in sustainability.
Related Article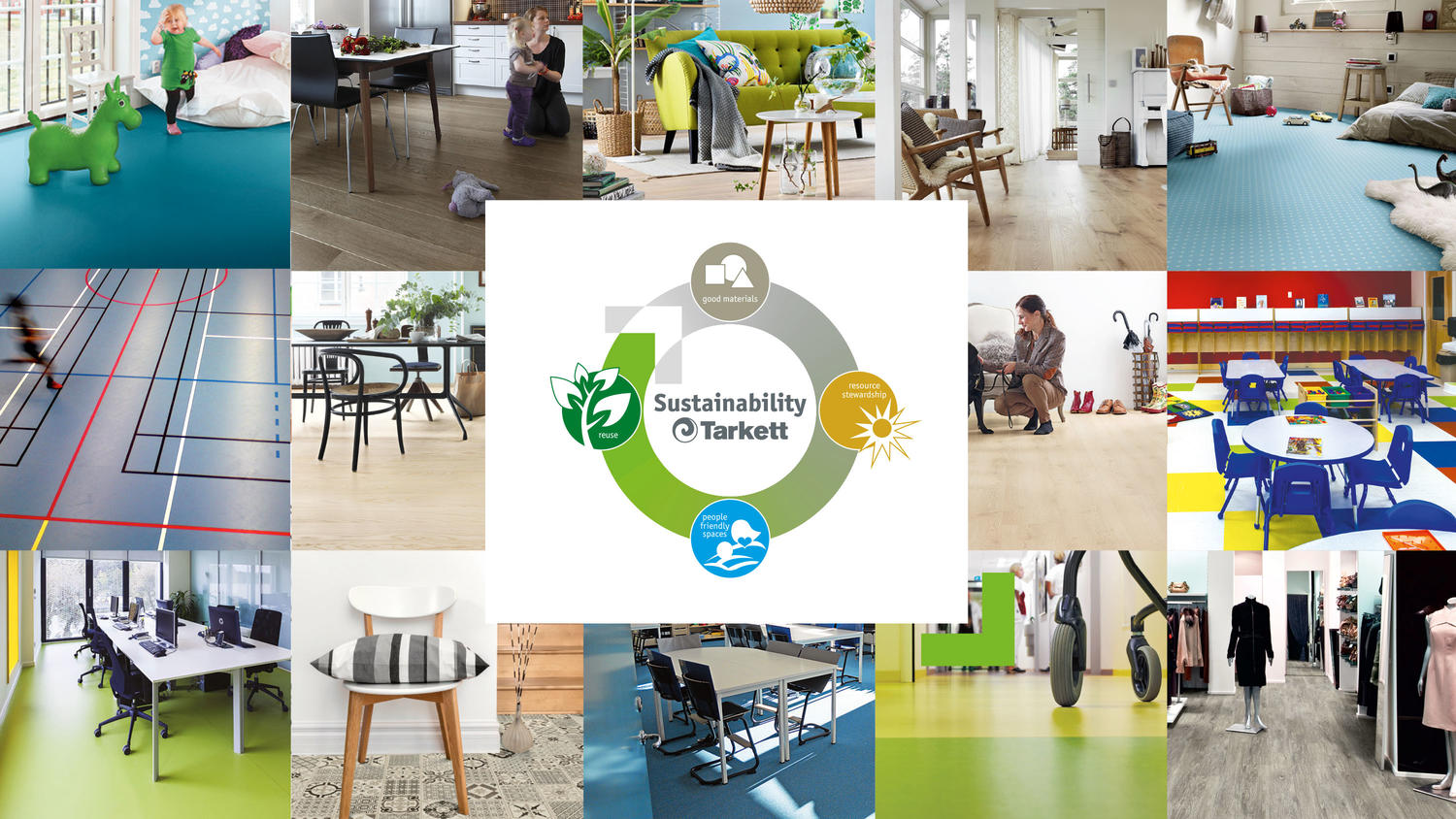 OUR SUSTAINABLE APPROACH: DOING GOOD, TOGETHER
Tarkett's Sustainable approach is based on three pillars aligned on the Cradle to Cradle® principles: Designing for Life, Closing the Loop and Driving Collaboration
READ MORE