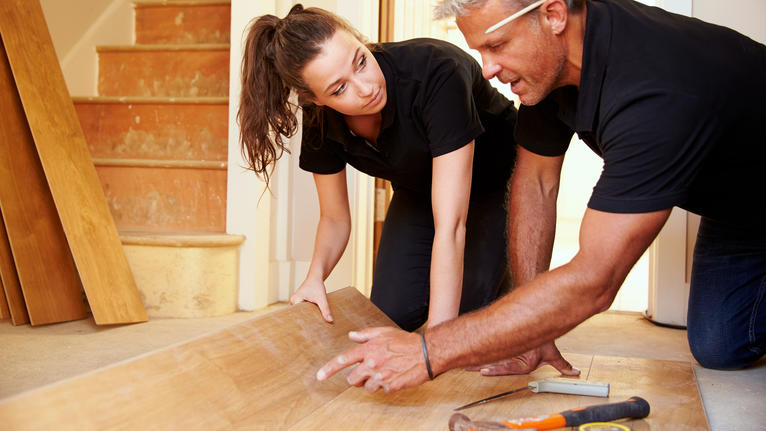 Shaping good flooring experiences for people also means high-quality flooring installation is key. For the flooring experience to be optimal, installers need to receive a first-rate training. Tarkett offers training services for installers in different European countries.
Floorskills, our official UK training partner
FloorSkills is our official training partner in the UK. The Tarkett training centre within FloorSkills caters to all levels of experience and expertise, while meeting the highest industry standards in the UK.
FloorSkills instructors are familiar with the most cutting edge installation techniques for vinyl floors, linoleum, luxury vinyl tiles, wood floors (solid and engineered) and laminate. They are well equipped to share their knowledge and expertise with trainees of all levels. All courses are approved by the Construction Industry Training Board.
Tarkett Academy Training Center in Serbia
Tarkett Academy is a training centre based in Baçka Palanka (Serbia) for people looking to develop and improve their installation skills and their knowledge of Tarkett floor coverings. A team of experienced floor installation instructors and product managers organizes the training sessions. In addition to training and consultancy, Tarkett Academy also offers assistance to our partners with complex or technically demanding projects.
Tarkett Academy in France
Created in 1993 in one of the biggest flooring production plants, Tarkett Academy in France trains professionals or future professionals to installation techniques for vinyl, linoleum, wood or carpet floorings.
Today 2 Tarkett Academies in Sedan and Toulouse have the necessary tools and capacity to welcome students in very good conditions. More than 300 young adults have obtained the diploma and every year, approximately 180 professional installers come to build new installation skills.