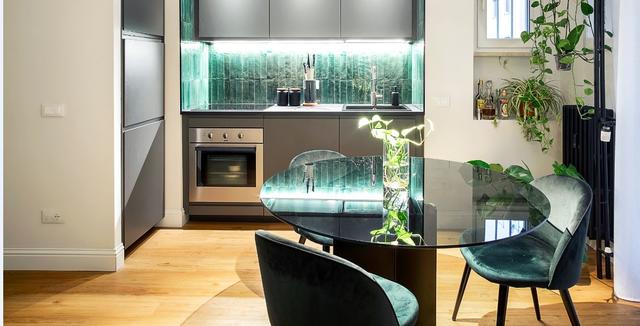 Renovation of a private apartment
2021 | Verona, Italy
The LVT iD Essential 30 Tarkett floor covering was selected for the renovation project of a private apartment in Verona, Italy for its sleek design and technical features.
The Vicenzidalbon Architetti studio, chose the Natural Oak colour, since it matches perfectly with the neutral coloured walls and the touches of green found throughout the apartment.
The thickness of the floor is only only 2 mm wide, making it possible to install without removing the non-replaceable fixtures. Also, the versatility and creativity of this collection made it possible to install a piece of the LVT floor covering on the sliding door of the bathroom cabinet, completing the look.
Like all other Tarkett collections, iD Essential 30 is an ecological and 100% recyclable range, made without phthalates and with low VOC emissions, to help improve indoor air quality.
Making conscious choices. For people and planet.
Tarkett Human-Conscious DesignTM.
About
Discover the warm and refined atmosphere of a newly renovated apartment in Verona, Italy that features Tarkett's LVT collection, bringing class and elegance to the floors.
Designer/ Architect
Vicenzidalbon Architetti