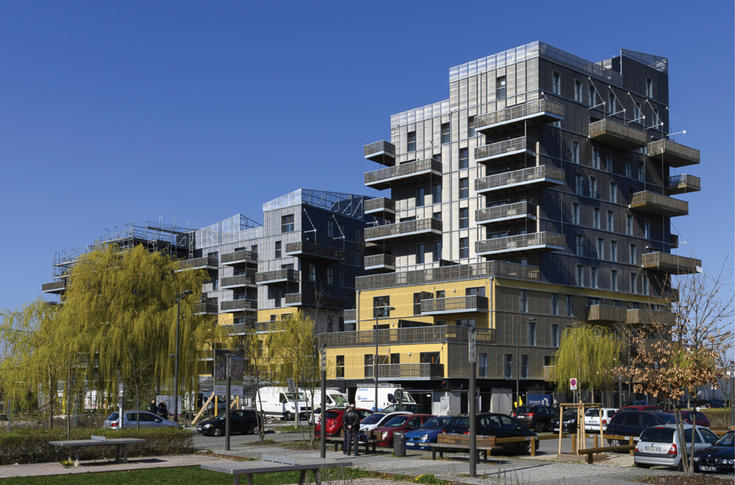 Sensations housing complex
2019 | Strasbourg, France
Sensations in Strasbourg is the first high-rise real estate program in France ever built with a wooden structure. As part of the eco-approach of the "Strasbourg Métropole Deux Rives", Sensations aims to responds to climate challenges through the design of low-carbon housing, and enhance residents' quality of life. The project was led by KOZ architects and ASP Associate Architecture for Bouygues Immobilier.
The teams involved in the project were looking for high quality materials that would improve indoor air quality and respect the environment. Tarkett's iD Inspiration 55 range of vinyl planks and tiles was selected for its phthalate-free construction and very low VOC emissions.
The iD Inspiration range is 100% recyclable. Tarkett created an on-site Restart collection program which allows installers to collect offcuts from installation into big bags that are sorted by Veolia before being reintroduced as ingredients in the production cycle of Tarkett's vinyl facility in Luxembourg.
Philippe Michel, Technical Director for Bouygues Immobilier Grand Est: "We were looking for flooring that was compatible with reversible heating and made from environmentally-friendly materials for BBCA certification. The decision to select Tarkett's vinyl tiles that are recyclable, contain recycled materials and have low VOC emissions for the well-being of inhabitants was quickly taken. The variety of choices in these ranges was also a key factor."
The construction site has obtained NF Habitat certification and a BBCA Excellence label, valuing all its low carbon building processes, including how the reuse of products contributes to the circular economy.
About
Tarkett provides the flooring for the Sensations apartments complex in Strasbourg and sets up an on-site recycling program.
Designer/ Architect
KOZ Architectes, ASP Architecture, Ingénierie Bois, Illios, Aïda Acoustique
Contractor
Eiffage Construction, Altibois
Building owner
Bouygues Immobilier