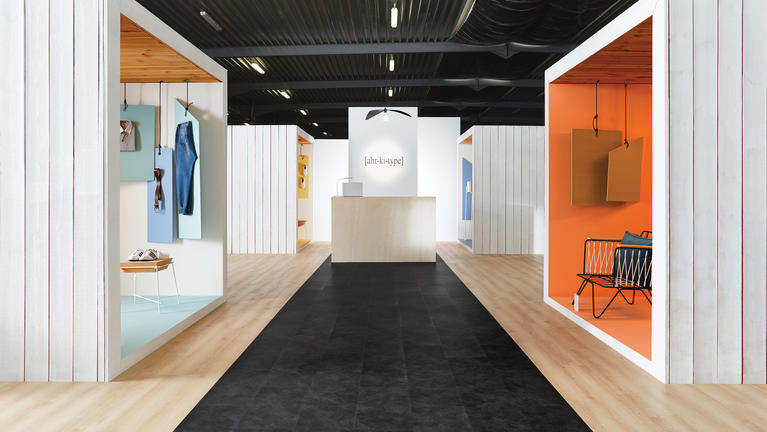 The ultimate flooring renovation solution
Business downtime, appearance, design… Renovating hotel, restaurant, store or shop floorings is very demanding. Expectations are very high as the installation has to be impeccable and yet be done in very little time to be of little to no impact on business. iD Click Ultimate, Tarkett's new rigid composite core vinyl tile, is the ultimate solution for a flawless end result in close to no time. iD Click Ultimate is an innovative hard surface flooring that combines the strength and feel of wood and stone with all of luxury vinyl tile essential advantages:
With iD Click Ultimate, fast renovation is more than a tagline
In some businesses, the need for renovation is postponed because of the potential impact of closing a business during the renovation. It is crucial to keep the business running even during renovation, which makes the need for fast renovation especially important. iD Click Ultimate is fast and easy to install for many reasons. First of all, iD Click Ultimate requires very little subfloor preparation and, in some cases, no preparation at all. It can even be installed on ceramics*, thereby reducing business downtime for stores, hotels or offices on a tight schedule.

Secondly, iD Click Ultimate comes with the i4F lock click system, one of the fastest installation systems on the market today, up to 30% faster than standard clicks. Both these facts minimise the impact of a renovation on your business. Plus, iD Click Ultimate comes with an integrated underlay, thus saving even more time and money on the installation process.
*tiles with joints of max 8mm width and 3mm depth
iD Click Ultimate is extremely robust
iD Click Ultimate is a Class 34 flooring, thus suited for heavy traffic areas and compatible with static and dynamic heavy loads. The Rigid Composite Core (RCC) innovation offers excellent dimensional stability: you can install up to 400m² of iD Click Ultimate without an expansion gap* but also install it in areas with extreme temperature variations or where waterproofing is required. iD Click Ultimate also withstands all scratches, scuffs, indentations and abrasions thanks to the extra dense RCC innovation combined with our PUR surface treatment. iD Click Ultimate is ideal for intense traffic large surfaces.
*rooms of 20x20m
iD Click Ultimate is also acoustic
Ideal for hotel rooms, iD Click Ultimate's built-in acoustic backing has integrated SoundBlock Technology which creates quieter environments, dampening noise levels in rooms and between floors by 19dB. And say goodbye to unwanted background noise in hotel rooms and the workplace, as iD Click Ultimate has better sound absorption qualities than most hard floor solutions. An added bonus: no supplementary acoustic underlay is required, which eliminates extra installation time and costs.
Performance that doesn't compromise on aesthetics
Available in a premium range of 15 elegant wood and stone designs, iD Click Ultimate is a go-to reference for creating warm, timeless, stylish and contemporary atmospheres for retail, tertiary and hospitality environments. Products look and feel like actual hard floor, thanks to a Rigid Composite Core and the lifelike traces and patterns of high definition printing and embossing-in-register (EiR) treatment. For a cosier effect, the 100% matte finish of the wooden oak designs replicates the essence of real materials and adds authenticity to interior spaces.