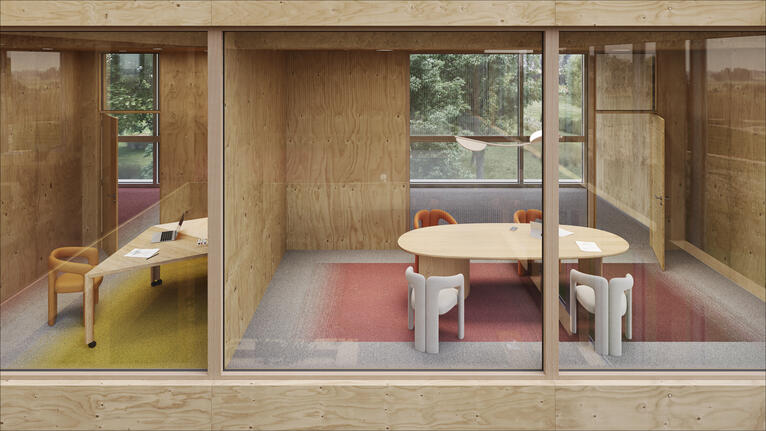 Workplace Flooring Solutions
Sustainable flooring for today's workplace
Designing today's workplaces has become increasingly complex. The way people work are changing, and so are expectations of the office. Eco-friendly and multifunctional, today's workplace should provide comfort, creativity and wellbeing.
At Tarkett, we understand the need for agile workplaces capable of inspiring their users as well as soothing them. Guided by the latest user research, we make sustainable flooring that supports employee productivity and contributes to workplace wellbeing.
 
Creating a sustainable workplace begins with finding the right eco-friendly flooring. Our fully recyclable carpet tiles are truly circular and have an impressively low circular carbon footprint, one we are continually working to shrink even further.
Wellbeing in the workplace
At Tarkett, our office flooring solutions are designed with people's health and wellbeing in mind. Improving wellbeing in the workplace has been shown to enhance productivity, increase morale and even improve staff retention.
Co-creation and visualization
When it comes to flooring, customisation is increasingly important. With the experience and expertise of our designers we can help take your commercial interior project to the next level by elevating your floor design from sketch to spec.
Recommended floors for the workplace
DESSO carpet tiles have a distinctive European design with contemporary clean lines, minimalist aesthetics and fresh colour palettes. Designed with circularity in mind, our EcoBase backed carpet tile collections are 100% recyclable and have an impressively low circular carbon footprint, one we are continually working to shrink even further.
Our luxury vinyl tiles and planks offer complete design freedom with endless layout possibilities across a broad range of patterns, colourways, quality levels and installation formats. Treated with our Top Clean surface protection for easy maintenance and extra resistance to scuffs, scratches and stains.
Natural wood brings a sense of the great outdoors indoors, reflecting the growing popularity of materials that reflect the natural world. Its beauty, strength and character bring authenticity and warmth to any interior. Equipped with a click installation system, wood floors are also easy to install and ready to use.
See how others have used our office flooring solutions as part of their workplace projects.
DESSO & Patricia Urquiola: Step into a world of high-tech graphic softness
Patricia Urquiola needs no introduction. Light-hearted and poetic yet detail-focused and pragmatic, her approach to materiality and design processes is innovative and playfully adventurous. Taking inspiration from woven textiles, Patricia Urquiola infused this new DESSO carpet tile collection with the expressive details and invitingly soft qualities of knitwear and woollens.
Fuse Landscape: Take a journey through colour
The Fuse Landscape collection imagines interior spaces as fields of colour, with fluid transitions for creating flexible, multifunctional workspaces. Complementary shades and textures melt into one another organically for effortlessly beautiful spaces that work better – naturally.
DESSO Desert: Stunning effortless design every time
Our designers have revamped our ever popular DESSO Desert collection. With a wider spectrum of new muted shades to bridge existing neutral and accent colours, the restyled palette of DESSO Desert presents multiple combinations for creative expression.
iD Square: Modular Vinyl
iD Square displays one of the largest selections of designs & colours on the market. Easily combinable with Desso Carpets, thanks to similar thicknesses (difference in height is < 2.5mm) and matching designs, to create the perfect fit and ensure seamless transitions.