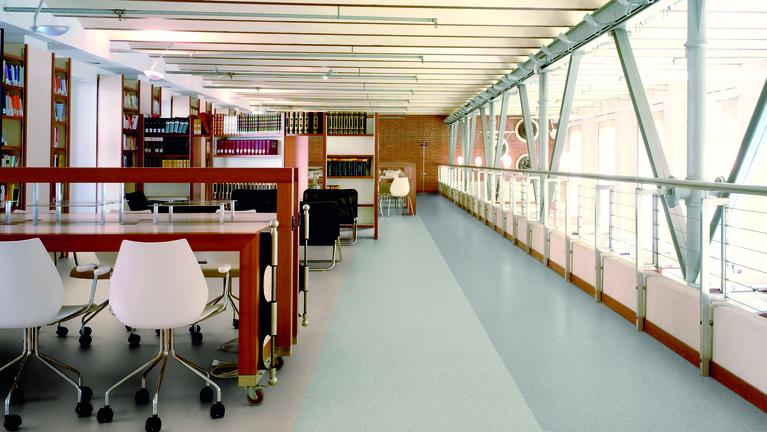 Acoustic Floors
Our acoustic floorings come in various formats (tiles or rolls) and materials (acoustic vinyl flooring, acoustic linoleum flooring, acoustic carpet flooring). Acoustic floors are manufactured to offer both excellent impact sound reduction, sound absorption and good resistance to indentation thanks to innovative product constructions and additional foam and felt backings that are fit for different flooring materials and formats. Acoustic floors also provide extra underfoot comfort : this is a key well-being factor in Work Spaces, Hospitality and Leisure segments, but also Educational facilities, Hospitals and more.
Why acoustic solutions?
Noise has been identified as a major stressor with an influence on individuals physical and mental health. Therefore, an effective acoustical performance is a critical need for all types of facilities.
At Tarkett we have several solutions from heterogeneous with our Tapiflex collections, through Linoleum Silencio, up to homogeneous vinyl floors which offer great acoustic and durability performance while enhancing underfoot comfort, designed for areas where sound comfort is key.
Having that in mind, we have now enlarged our iQ Acoustic offer. 
Discover our new iQ Acoustic solutions on demand
Since years, iQ is a unique flooring solution offering outstanding durability, longevity, ease of cleaning and practical, functional designs. iQ is also the only homogenous flooring solution offering acoustic properties.
Tarkett´s unique on-demand service offered for areas with high acoustic requirements and with no compromise on durability & resistance nor design. Choose one of the iQ collections, pick a colour,select the acoustic option and still have the full benefits of an iQ-flooring.
Acoustic comfort

: -16dB impact sound reduction
Design continuity

: the same colour available in both compact and acoustic versions

Design flexibility:

 thanks to a low Minimum Order Quantity

Proven iQ quality:

 The best in class iQ PUR surface treatment for maximum durability, chemical resistance, ease of maintenance and repairability

Fully recyclable

(post installation + post-use): Part of our ReStart program to limit emissions and reduce your carbon footprint  
The on demand acoustic product option is available on all the 26 colours of the tonal colour palette with a sophisticated and rich touch.
The on demand acoustic product option is available for all 20 colours inviting for new interpretations and perspectives.
The on demand acoustic product option is also available for the unique pattern depth with luminescent pearl effects of iQ Megalit.
The on demand acoustic product option is available on all the 64 colours of iQ Optimas original, truly classic directional designs.