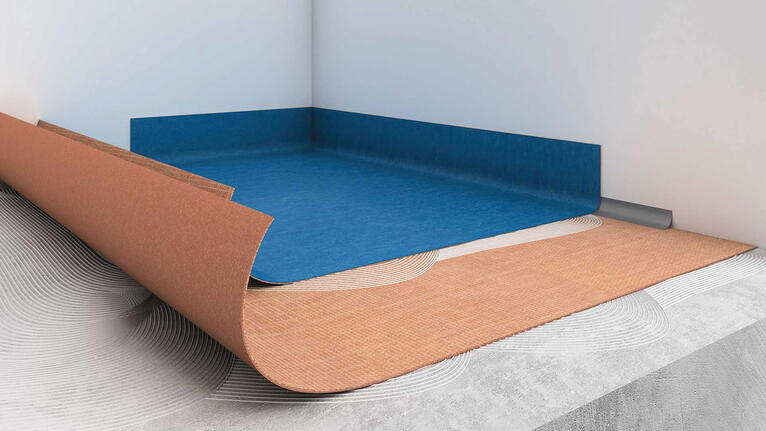 Underlayers
Flooring underlays can be used for different purposes, to help prepare an installation over uneven floors, to provide a barrier against dampness or to improve sound insulation and reduction. Our selection includes underlays for vinyl floors in rolls and tiles (Click LVT, glue-down LVT and loose-lay LVT planks or tiles). Some of these solutions are also compatible with Linoleum and some can be laid over problematic subfloors such as concrete or old wooden substrates.
Flooring Accessories: Underlay
Flooring underlays are used to lay between the subfloor and the floor covering. Underlays are an integral component of how the flooring will last and should not be overlooked. Indeed, Underlays serve different purposes such as:
Preparing an installation by keeping the floor level
Provide a barrier against dampness
Cover uneven subfloors
Insulate against sound
Choosing the right underlayer will improve the comfort ( ex: acoustic underlayer) and protect you floorcovering from the subfloor ( ex: Tarkloay for humidity). Our collections include underlays for wood, laminate, and vinyl, and linoleum floors available either in rolls or tiles with thicknesses from 1 to 10 mm.
Don't hesitate to contact your representative to help you find the perfect match for your project.
Many underlays exist and different factors are to be taken into consideration to sustain maximum performance.
Always consider
the type of subfloor
the flooring that will be fitted
and the insulation you want to provide
 
TarkoLay (Humid substrate)
You cannot lay the flooring if the substrate is wet. It may cause issues as odours or subfloor damages during life time. To avoid such damages, you can use Tarkolay, an underlayer that allows to ventilate the subfloor and not holding the humidity. Tarkolay can cope with up to 7% humidity rate CCM. Always refer to each country regulations for humidity rate.
Tarkodry (Wet environnement)
In damp environments such as wetrooms, when a traditional solution like ceramic is used, sealing may not be 100% waterproof and can be damaged over time (water can penetrate till the substrate and cause damages). Repairs can be expensive.  So it may be necessary to install a system for waterproofing the room. Before laying the ceramics and making the seals, you can lay Tarkodry, an underlayer that forms a water- and air-tight barrier, ensuring waterproofness.
Tarkoflat (Uneven substrate)
Laying a flooring on an uneven substrate may cause telegraphic effects, with appearance of bumps and ridges from the substrate. If irregularities do not exceed 1.5mm depth and 3mm width, you may use Tarkoflat, an underlayer to level the floor.  
Tarkomfort (Acoustic comfort)
Acoustic comfort is a priority for people's wellbeing.  If the building or house is not equipped, acoustic performance can be improved by an underlayer, depending  on the flooring that will be laid.  Tarkomfort is an acoustic underlayer taht enhances the impact sound and  in-room noise reduction 
Tarkoprotect (Floor protection)
Once the floor is laid, some other building professions may take action. The floor needs to be protected so nothing bad can happen. Tarkoprotect overlayers provide a safe and high-performant protection during this time and are easy to remove.
Discover all the tips to perfectly hot weld for Linoleum flooring or to fit a skirting for vinyl. Learn how to install welding rods, skirtings, underlayers, and many more flooring accessories thanks to the Tarkett YouTube playlist. 
How to Lay the Underlay ?
Underlays are used to increase thermal insulation, reduce noise, and make your new flooring last long. Easy to install, Tarkett offers installation and maintenance recommendations to help you lay your underlay and other flooring accessories.
Look at our step-by-step videos to discover the tools you need and how to make sure you'll install a durable solution.