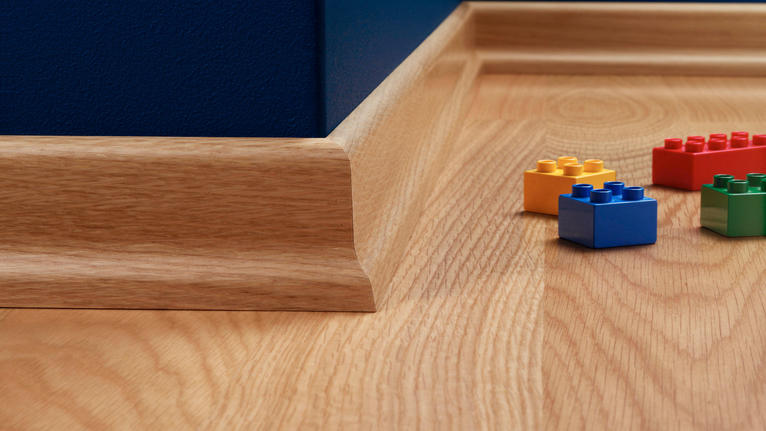 Skirtings
To give your floor the perfect finish, choose from our selection of coordinating and decorative skirtings.
Our skirtings come in different shapes, sizes and formats to fit different types of installation and floors. Our skirting selection includes flexible and rigid skirting solutions for LVT floors, heterogeneous and homogeneous vinyl floors, Wood floors and also Linoleum floors.
Are Skirting Boards Necessary ?
Skirting boards are primarily used to protect walls from damage. In residential or commercial use, walls are often cracked or broken by shocks and scuffs around their base that's why installers use skirtings to act as a barrier. It is particularly useful in commercial buildings such as workplaces or healthcare buildings where high traffic is constant.
The second function is to hide the buffer between the wall and the floor. Indeed, skirtings are necessary both practically and aesthetically. There is always a junction between the floor and the wall, and skirting boards are made to hide and protect that buffer. Skirting boards will give a neat final touch to the room.
How to fit skirting boards ?
Skirtings are used to increase walls resistance to shocks and scratches and offer high flooring durability over the years. Easy-to-install, Tarkett matching skirting boards are tailor-made on demand to answer all your needs.
Check the installation and maintenance recommendations to help you choose the right skirting and enhance the lifespan of your overall flooring. 
Look at our step-by-step videos to discover the installation tools you will need and how to fit skirting boards.
Discover all the tips to perfectly hot weld for Linoleum flooring or to fit a skirting for vinyl. Learn how to install welding rods, skirtings, underlayers, and many more flooring accessories thanks to the Tarkett YouTube playlist.