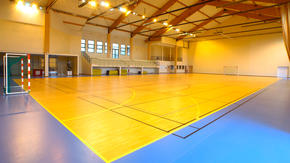 OMNISPORTS REFERENCE (6.5 mm)
OMNISPORTS REFERENCE (6.5 mm)
Key features
High performance for multi-sport facilities
Players protection (P1-compliant, EN 14904)
Resistant to indentation and rolling loads
GreenLay® installation option
Contributes to improved air quality
Omnisports Reference (6.5mm) is a vinyl sports floor that provides high performance and resistance, and is P1-compliant under the EN 14904 standard. Approved by major sports federations, it is an ideal choice for multi-sports use in middle school, high school and city hall gyms. It is particularly resistant to indentation marks and rolling loads. It is treated with our trademarked Top Clean XP surface protection for extra durability and cost-effective maintenance. Installation options include our sustainable GreenLay® loose lay method.
OMNISPORTS
Adequate balance of friction and grip control:
Specific engineered surface embossing
Very high resistance to scratches and easy maintenance:
TopCLEAN XPTM treatment
Exceptional resistance to wear:
Pure transparent vinyl wear layer
Dynamic colours and realistic decors:
High definition printing for a perfect wood surface appearance and built-in unis for higher colour intensity
Superior dimensional stability (<0.10%):
Unwoven glass fibre
High resistance to indentation and tearing:
Solid homogeneous calendered sheet made of recycled vinyl
Comfort, safety and sound reduction:
High-density closed-cell foam with engineered honeycomb backing
Technical and environmental specifications
What paint do you recommend for Sports Flooring Line Marking?