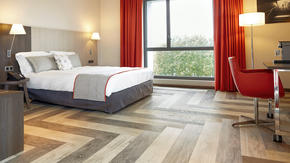 KEY FEATURES

30 on-trend designs inspired by nature
Warm and quiet underfoot
Resistant to scuffs, scratches and stains
Easy to clean and maintain
Using all-time classics of wood and stone reveals a space of guaranteed elegance. iD Inspiration 40's versatile designs and durability make it a great choice for commercial interiors with light traffic. Ideal for hotels, offices, shops and aged-care facilities. Treated with our Top Clean surface protection for easy maintenance and extra resistance to scuffs, scratches and stains.
TECHNICAL AND ENVIRONMENTAL SPECIFICATIONS