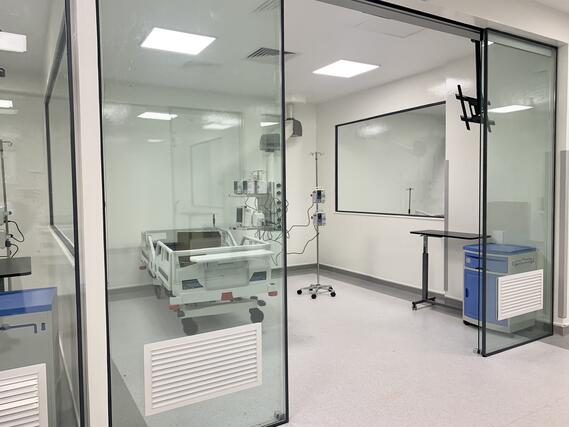 AAR Hospital
2021 | Nairobi, Kenya
AAR Healthcare Kenya Ltd. is a subsidiary of AAR Healthcare Holdings Ltd. and operates in the country as one of the leading medical service providers. In early 2021, a brand new, state-of-the-art facility was opened in Muthaiga North area in Nairobi, Kenya.
This multi-specialty hospital features a total area of over 10000 square meters with 140 beds and offers cardiac surgery, critical care, radiology and both in-patient and out-patient services.
The main architect for the hospital was Nairobi-based Pharos Architects. The company is well-known for creating the first and only LEED certified (green) buildings in the East Africa region, with the LEED Gold status awarded to its projects in Kenya and South Sudan.
The architect, together with Tarkett's local partner in Kenya – Antarc Interiors – selected several options of homogeneous vinyl flooring for the sizeable hospital floor space. These options were selected based on the main functionality of the particular area and the expected performance of the flooring solution. Total flooring area covered by Tarkett's floorings exceeded 7,000 square meters.
Preparation and the entire installation was managed and executed by Antarc Interiors. The main products used for the project included several colors of iQ Granit, Granit Safe.T — anti-slip option for ramps and iQ Toro SC — static-conductive flooring for operating theatres and x-­ray rooms. The ultimate success of the project lay in diligent and proper installation of the floor converings, according to best practices created by Tarkett.
Upon completion, AAR Hospital was considered as a new benchmark for all healthcare facilities, not only in Kenya, but in the entire East African region.
Making conscious choices. For people and planet.
Tarkett Human-Conscious DesignTM.
About
Read about the new multi-specialty hospital in Kenya, featuring over 7,000 m2 of Tarkett homogeneous vinyl flooring.
Designer/ Architect
Pharos Architects