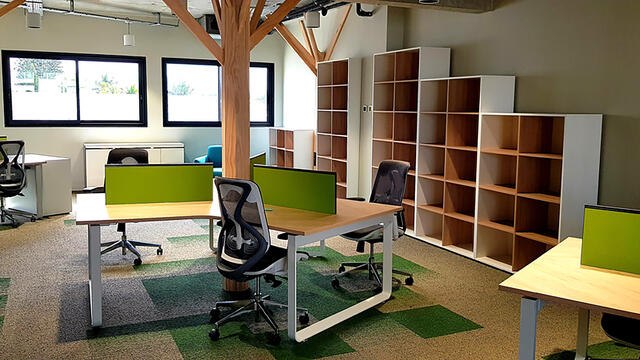 Bissora Headquarters - Tropic Office
2018 | Noumea, New Caledonia
Created in 2003, Tropic Immobilier is a renowned real estate agency in New Caledonia. With more than 1500 new homes built in the last 10 years, the group offers a wide range of construction services that come with an eco-responsible approach.
For the construction of its headquarters in 2018, they chose a five-story building nestled in the historic district of Noumea, otherwise known as the Latin Quarter. The building was designed to be modern, automated and respectful of the environment. It is composed of five office areas that were created in different colours and designs. A predominant element in the design of the space, was creating a walking pathway that facilitates personal interaction and communication between colleagues.
The Fuse & Field carpet range was the perfect flooring selection for this project, thanks to its generous wide loops, which inspire a welcome feeling of comfort and warmth. Its texture harmoniously matches the other materials – wood and concrete – and its acoustic comfort contributes to the necessary calm of a work environment.
We see throughout the building subtle references to nature:
The brown and red décor on the 1st floor reminds us of the contrasting landscape of the red soil in the south part of the Grande Terre

The green and brown tiles on the 3rd floor recall the moss found on tree trunks

The yellow found on the 4th floor represents the bright and lavish colours of New Caledonia, the sun and the abundant flora.
The placement of each tile was meticulously positioned in order to create a gradient effect, while the transition tiles were positioned to zone each space. Lastly, the mix of two coloured tiles provides a strong yet pleasant contrast. In summary, the bold, energetic and innovative spirit of the group is reflected in the design of the building. 
Making conscious choices. For people and planet.
Tarkett Human-Conscious Design®.
About
Read more about our beautiful commercial flooring installation in Bissora's headquarters with DESSO carpet tile collections Fuse and Fields.
Designer/ Architect
La Planche à Dessin - Marine Moussaoui
Building owner
Tropic Immobilier