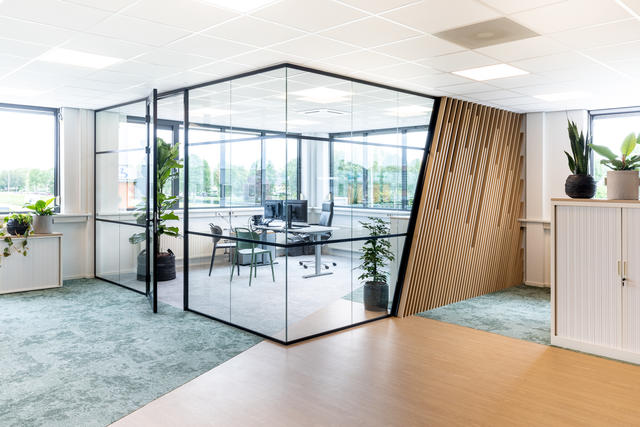 Imperial Chemical Transport BV
2021 | Barendrecht, Netherlands
Chemical Transport BV, Barendrecht – an international tank transport company – renovated its offices into a dynamic and comfortable space, in order to reflect the brand identity.
Working closely with STUDIO THO, an interior design studio, and Koers, the hired contracting company, they designed a working environment, with dynamic shapes using wood and steel surfaces, to create a comfortable and lively workspace. The colourful reception area has a warm and inviting feel, where all you want to do is have a cup of coffee with a colleague or a customer.
"Thanks to everyone's expertise, skills and craftsmanship we were able to create a very pleasant working environment in a very short period of time. Using a mood board in the beginning of the project was very helpful and inspiring. The new space provides a positive energy, stimulates our teams and motivates them to come into the office with a smile. We are thrilled with the results!"
photographer : Roza Schous
Making conscious choices. For people and planet.
Tarkett Human-Conscious DesignTM.
About
Discover the new office space at Imperial Chemical Transport BV, a dynamic and modern working environment, designed with Tarkett DESSO Carpet and ID Inspiration Loose-Lay.
Designer/ Architect
Studio THO
Building owner
Imperial Chemical Transport