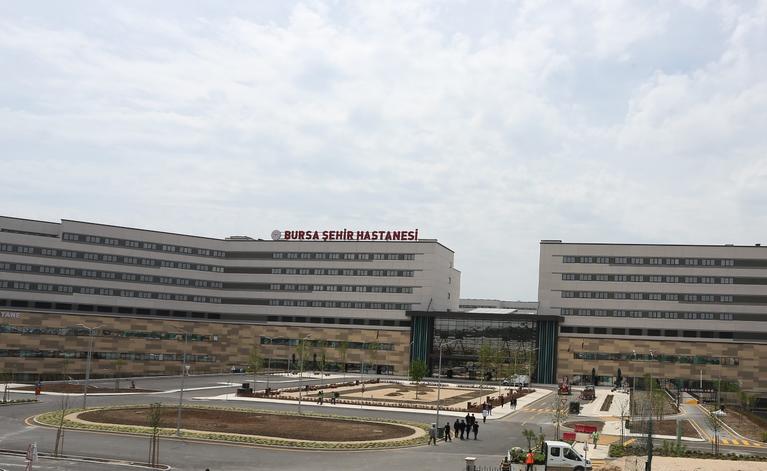 Bursa Hospital
2019 | BURSA, Turkey
At Bursa City Hospital, the figures speak for themselves: we recently sold 186,500 m2 of flooring to one of the largest public-private partnership hospitals in the country. The new 1,355 bed hospital complex, which serves a community of approximately 6 million people, has been fully equipped with Tarkett vinyl and carpet.
For a hospital as large as Bursa City Hospital in Turkey, there is no "one-size-fits-all" solution. Intensive care and operating rooms require static-control flooring; common areas and corridors must withstand heavy traffic; conference rooms need flooring that contributes to acoustic performance. Tarkett was able to offer a solution combining five products to meet the hospital's multiple needs:
iQ Eminent vinyl flooring was a natural choice for all common areas, corridors, patient and treatment rooms, polyclinics and units due to its extreme durability. A total 165,300 m2 was installed in these frequently-used areas.
iQ Toro SC and Wallgard were installed in operating rooms and intensive care units, which require low-conductivity flooring and wall coverings, for a total of 9,000 m2 and 3,600 m2 respectively.
Carpet Desso AirMaster and Pallas were selected for conference halls thanks to their acoustic performance and comfort.
iD Inspiration 70 LVT was used in administrative areas and offices for its elegant wood-like design.
So, what is our prescription for success? Combine great designs with durable, hygienic products that offer the technical characteristics our customers need.
About
How do our products stack up in the healthcare sector ?
Contractor
Rönesans Holding