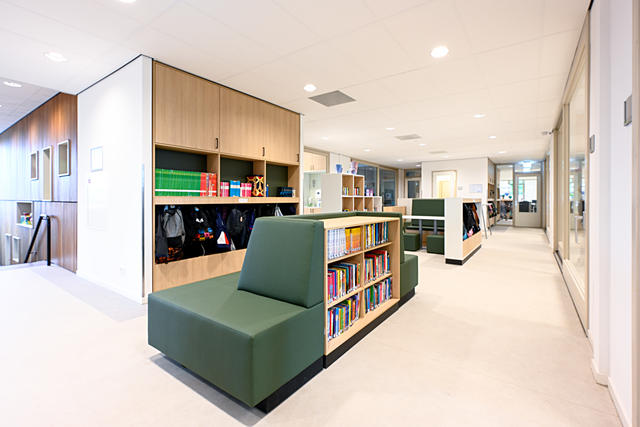 Public Elementary School De Uilenbrink
2021 | Veghel, Netherlands
Sustainable school building
As part of the innovative and eco-friendly renovation program Natural, gas-free and fresh primary schools, the public elementary school De Uilenbrink in Veghel opened its doors in 2021.
The goal of this program was to use only natural materials in order to create a healthy, sustainable and eco-responsible learning environment. Therefore, Thomas Architecten Den Bosch, the architect studio chosen for this project, decided to preserve the positive features of the original building and incorporate them into the new construction. The final outcome of the new building was very successful, since it offers more structure for the students and encourages them to learn, discover and play together.
Versatile and attractive floors
A total of 2000 square meters were installed in the school. The architects selected Tapiflex Excellence 80 for the hallways and iD Inspiration 55 for the teacher's lounge.  
Photos: Nabor Fotografie
Making conscious choices. For people and planet.
Tarkett Human-Conscious Design®.
About
Discover the new elementary school, De Uilenbrink, designed with Tarkett floorings, as part of an innovative and eco-friendly architecture initiative.
Designer/ Architect
Thomas Architecten